Limber up for the Cayman Islands Triathlon this November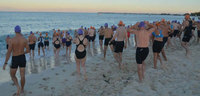 As triathlon-fever sweeps through the UK in the wake of the Olympic gold medallist Brownlee Brothers, a number of British enthusiasts are expected to join over 200 novice and professional athletes in The Arch and Godfrey Cayman Islands Triathlon taking place in the British Overseas Territory later this year. The Cayman Islands Triathlon is one of a number of popular annual events in the Cayman sporting calendar that are open to the public, including the Cayman Islands Marathon (December) and the annual Flowers Sea Swim (June).
The Arch and Godfrey Cayman Islands Triathlon, which is still open for registration, kicks off on Sunday 3rd November on Grand Cayman's Seven Mile Beach where participants get to swim in the legendary Caribbean island's waters, which are so crystal clear that stingrays, parrot fish and even turtles may be seen close to shore.
From here it is just a short run to the transition area where participants hop on their bikes and head out along Grand Cayman's well maintained smooth roads that line the spectacular coastline heading up to West Bay. Once the bike portion is complete participants race up and down Seven Mile Beach road on a course closed to traffic.
There are several categories open to competitors. The Olympic distance (1500m Swim, 40k Bike, 10k Run) costs US$ 75 per individual, or US$150 per team. The shorter Sprint distance (750m Swim, 20k Bike, 5k Run) costs just US$50 for an individual competitior.
The event will be attended by Canada's top triathlete, Angela Neeth, in her capacity as official race ambassador. Neeth will be returning to Cayman early in 2014 for the more challenging Mercuryman Triathlon on Sunday 19th January. The event is the only half iron distance triathlon in the Cayman Islands, and takes place in the undeveloped and tranquil East End of Grand Cayman. Participants will swim for 1.2 miles in the particularly spectacular turquoise waters, surrounded by thriving reef systems, before a 56 mile bike ride takes them through the rugged and scenic landscape of this largely traffic-free peaceful region of Grand Cayman before completing a 13.1 mile run.
British Airways flies direct to Grand Cayman from London Heathrow four days a week.
For more information on these events visit triathlon.ky.