Dolphin research and marine conservation volunteer project in Zanzibar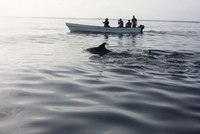 The largest on-the-ground volunteering operator in Africa, African Impact, has announced its latest volunteer project in Zanzibar to protect against the risk of endangering friendly bottlenose and humpback dolphins which have of late, become a major tourist attraction in Zanzibar. The project will monitor the dolphins and human-dolphin interaction looking at behaviour, feeding, daily habits and their reaction to humans.
Those who volunteer on the project will contribute greatly to work carried out on marine conservation in Zanzibar. Monitoring dolphin-human interaction will also help to inform Government policies on how best to regulate the freedom and access to dolphins that humans currently have in these waters. Namely, to ensure that the dolphins are not too harassed as such stress could lead to lower numbers of dolphins in this part of the world, should this rising popularity continue.
Andrew Procter, Operations Director at African Impact explains the issue: "Menai Bay is home to an array of beautiful marine life and people come from far and wide to see the dolphins. But of late, these creatures have become a major tourist attraction, with many fishing boats taking tourists out on trips to view them. Many even jump into the water to swim with them. The problem is, although friendly, these dolphins can often be surrounded by up to 20 boats chasing after them at any one time which can cause a great deal of stress, particularly if the dolphin is feeding or nursing".
Volunteers will also spend time on the project getting involved in helping the local community, doing beach clean-ups, village cleans, planting trees, painting and supporting local community groups such as local tour guides and youth initiatives.
Recent volunteer Pauline Convent talks of her experience on the new project: "Being able to see more than 20 dolphins swimming all together was amazing, as was going out on the water to look for whales and getting to see them close up. I also went on several trips to little islands where we observed many different fish. Being the second volunteer on this new project made the experience even more special. Going out on the water every morning, watching the behaviour of the dolphins and going to different reefs has made this one of the most memorable experiences of my life by far".
The project duration is a minimum of two weeks (which costs £1,000 excluding travel expenses) and offers volunteers the opportunity to live on a tropical island in a beautiful destination while learning about a new culture. Snorkelling and diving off Zanzibar Island is also popular. The project is located in Kizimkazi, a small fishing village located in the Menai Bay Conservation Area (MBCA) south-west of Zanzibar. For more information visit the website.
About African Impact (africanimpact.com)
African Impact is the largest on-the-ground volunteering operator in Africa, providing a wide range of responsible, authentic and ethical volunteer projects and internship programmes to travellers across the globe. With approximately 500 staff working across its many project locations in Africa, African Impact is well-established and respected by local communities who value the vital support of its volunteers. Projects range from community development programmes such as rural family support and teaching, to conservation volunteering such as dolphin & marine conservation and facilitated lion research. Specialist volunteering such as wildlife photography and projects aimed specifically at over 30s, are also available along with a range of internship programmes and bespoke group volunteering options.
As part of its commitment to making a positive impact, African Impact has its own independent charity arm 'The Happy Africa Foundation' (happyafricafoundation.org) which independently monitors its projects and provides tools and expertise to ensure sustainability of its operations and that donations given by volunteers are managed responsibly.