Oktoberfest - Barts does beer in a big way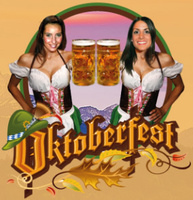 In honour of Oktoberfest, the world's biggest beer festival and one of Uncle Barts favourite German traditions, this year, Barts will be hosting The Oktoberfest Party on Thursday 26th September, 6pm-late.
Expect a heap load of hops, Steins brimming with Barts special brew, Jagermeister tastings and some traditional toe tapping tunes (German drinking songs), played by host of the evening, Accordian Karlotte. There may even be a selection of beer serving hop hotties in 'traditional' Bavarian dresses of course, and, Lederhosen and Bavarian drinking hats for all – courtesy of Barts longest standing member – the infamous fancy dress box.
Chef Clause will then be running the outside Bratwurst Grill, whilst Aunty Barts sets up a cosy little facepainting corner inside.
Guests that arrive before 9pm can also enjoy Barts steaming Stein and Bratwurst combo, for just £10 – who ever said old Uncle Bart doesn't look after you eh.
Oktoberfest is held annually in Munich. It lasts 16 full days during which approximately seven million litres of beer is guzzled by more than six million revellers. This year marks the 180th Oktoberfest.
Barts is a quirky 'speak easy' style bar on prestigious Sloane Avenue in the heart of Chelsea. It is the brainchild of Duncan Stirling and Charlie Gilkes, the dynamic duo who also own the highly successful 80's themed nightclub, Maggie's and an Englishman's Italian, Bar, Pizzeria and Karaoke, Bunga Bunga in Battersea. And, more recently, have opened, Mr Fogg's in Mayfair, a recreation of the actual home of Jules Verne's most famous adventurer, Phileas Fogg, and Disco, an underground boîte in Soho, inspired by the disco movement, which started in 1970s Manhattan.
So for Lederhosen in London parade on down to Barts, Prost..!
Barts
The Oktoberfest Party
Thursday 26th September 2013
W: barts-london.com