Float, bloat and gloat - in Canada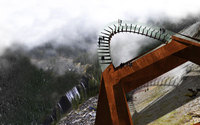 The opening of a new major new attraction in the Canadian Rockies, a brand new Niagara Falls boat operator, and a brand new downtown Toronto Aquarium.
Float
It might be landlocked, but out west, in Alberta, everyone is excited about the May 2014 opening of the New Glacier Skywalk which will allow all abilitiy access on a purpose built glass floored walkway literally floating in mid air. We say its going to be Flat out Awesome!
glacierskywalk.ca
Boat
Ontario, will showcase a brand new boat operator on the Niagara River in 2014, replacing the Maid of the Mist. Hornblower Tours will be revealing a new line up of Niagara Falls River experiences, from Sunrise to Sunset Tours out the falls alongside the more traditional trips on purpose built catamarans. Be sure to wear a mac as getting wet will be the order of the day.
niagaracruises.com
A few miles away in downtown Toronto, the aquatic theme continues with the Fall 2013 opening of Ripleys Aquarium, just steps away from the world famous CN Tower, making this a must do combo for those visiting Toronto.
ripleysaquarium.com/canada
Or for the more adventurous a brand new Adventure Canada cruise operating in June 2014 to the newly designated National Park :Sable Island. A 41km sand bar, 300 km southeast of Halifax, Nova Scotia it is known as the graveyard of the Atlantic. Now a research and rescue station, the remote and otherworldly island was recently designated a National Park by the government of Canada. A legend for centuries, Sable Island beckons the intrepid. Home to a population of feral ponies, descendents of survivors of shipwrecks, the island is also home for a large breeding group of harbour and grey seal, and vast colonies of birds including Arctic Terns and the Ipswich Sparrow.
adventurecanada.com/trip/sable-island-2-2014.

Gloat
Check out the new luxury glamping experience in Dream Domes in the province of New Brunswick, at Ridgeback Lodge and enjoy an out door hottub surrounded by trees and stars!
ridgebacklodge.com