Orange and Lemon are the new (Green &) Black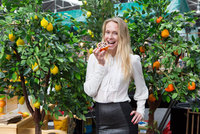 Orange and lemon have been two of the most talked about colours at London Fashion Week, from David Beckham posing at the Belstaff flagship store with an orange motorbike to Mulberry showcasing their Spring/Summer collection, which boasts the Bayswater in fashion-forward burnt orange and yellow hues. Plus, what fashion disciple could miss the orange lipstick debuted by DKNY at New York Fashion week - a must-have to complete next season's look.
But if you can't wait until spring 2014 to get your hands on the latest colours then look no further than Green & Black's Organic. We like to think we are always on trend with our latest chocolate flavours, which is why we are delighted to be unveiling two new varieties which have been inspired by the flavours of summer and the latest trends at Fashion Week; Lemon with Dark Chocolate and Blood Orange with Milk Chocolate.
To mark their arrival Green & Black's Organic has partnered with renowned food art specialists Miss Cakehead to create a life size orange and lemon grove bursting with vibrant colour to rival any recent catwalk looks.
What's more, on Friday 20th and Saturday 21st September, Green & Black's Organic will temporarily transform a market stall in London's Old Spitalfields Market to unveil the two new bars and are inviting all chocolate fans to come down and be amongst the first to try the new flavours, completely free.
Taste Specialist at Green & Black's Organic Brandt Maybury comments "Innovation is at the heart of everything we do and a great deal of time, tasting and passion goes into blending and developing the flavour of our chocolate to a standard Green & Black's Organic will put their name to".
Activity: Green & Black's Chocolate Sampling Market Stall
Location: Old Spitalfields Market, 16 Horner Square, Spitalfields, London, E1 6EW
Date: Friday 20 – Saturday 21 September 2013
Timings: The Green & Black's Organic Sampling Market Stall will be open from 10am – 6pm on Friday 20 September and 11-5pm on Saturday 21 September.