A traditional French Gouter by Pierre Herme Paris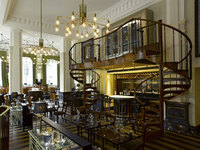 From October 2013, Pierre Herme Paris' world-renowned treats will be available at Sofitel London St James' The Balcon restaurant with traditional French Gouter, as the two French brands collaborate to bring the best of French culture to London.
Sofitel is the only French luxury hotel brand with a presence on five continents with 120 addresses, in almost 40 countries. Sofitel offers contemporary hotels and resorts adapted to today's more demanding and versatile consumers who expect and appreciate beauty, quality and excellence. Each Sofitel property offers a genuine experience of the French "art de vivre". Through its partnership with Pierre Herme Paris, it will continue to showcase the unique Sofitel touch of classic elegance and French sophistication.
Located in the former home of Cox and King's Bank at one of the finest addresses in London, Sofitel London St James combines traditional British design with an oh-so-French contemporary style. In its interior design, service and gastronomy, Sofitel London St James reflects the French Art de Vivre and Savoir-Faire that are so dear to Sofitel. Designed in collaboration with Russell Sage Studios, The Balcon is a grand brasserie with its own entrance at 8 Pall Mall, offering the perfect setting for the finest French-British cuisine by Head Chef, Vincent Menager. It will be an ideal place to discover the French Gouter by Pierre Herme Paris. With his original approach to the profession of pastry chef, Pierre Herme revolutionises even the most firmly entrenched traditions. He has now turned his hand to the traditional French Gouter. Now more than ever, Sofitel London St James will be more than a luxury hotel – it is somewhere that will always feel like a home away from home.
Emmanuel Caux, Senior Vice President of Sofitel Luxury Hotels Europe commented: "We are delighted to be working in partnership with such a prestigious brand as Pierre Herme Paris. At Sofitel we are proud of our French DNA and we aim to showcase the best of France through our hotels – this new project only reinforces that."
The French Gouter
Traditionally composed of a slice of bread with butter and jam or a piece of chocolate, or even a pain au chocolat, the Gouter nowadays has grown to include other sweet treats such as cakes, biscuits and pastries.
The enjoyment of pastries and other sophisticated treats accompanied with a cup of tea or strong coffee is widespread amongst adults with time for leisure. Whilst historically a supper served in early evening, then an afternoon snack for children returning from school ("Le Quatre Heures"), the Gouter has now become a refined, cultural experience to share with friends, family, colleagues or even on your own. A social moment to sweeten the end of the day and indulge in the French joie de vivre, the Gouter has become part of the French culture.
The British may have trademarked Afternoon Tea, but the French gouter is a tradition just as deeply woven into the culture.
The Pierre Herme Paris Gouters at the Sofitel London St James
Sweets for adult palates, Pierre Herme's creations are liberated from references to the past, to childhood experiences, and have made their entry into the world of gastronomy. With "pleasure as his only guide", Pierre Herme has invented his own unique world of tastes, sensations and pleasures – a world that can now be discovered at the prestigious Balcon restaurant at the Sofitel London St James with two gouters.
Le Gouter Pierre Herme Paris
Chocolate has long been a key component in the traditional French gouter. The French Gouter by Pierre Herme Paris offers the chance to enjoy some of Pierre Herme's most emblematic chocolaty treats. Start off with the soft "pillowy" Brioche Mousseline topped with Pierre Herme's indulgent Pate a Tartiner Infiniment Praline Noisette, a rich hazelnut praline spread with caramelised hazelnuts. Its crunchy texture, an encounter between soft creaminess and crisp praline, invades the palate with deliciousness. Like a sweet-addict's dream, it awakens a terrific sugar craving, leading the way to that first bite into the moist chocolate moelleux and the crumbly Sables Infiniment Chocolat. Made the traditional way with fresh butter from Charente, Pierre Herme's cookies are perfect as part of the gouter or at any other time of day. The whole experience is rounded off with a comforting cup of frothy hot chocolate or flavoursome tea.
Le Gouter Mogador
One of Pierre Herme's most emblematic Fetish flavours, Mogador expresses the association between milk chocolate and passion fruit, a combination in which the smoothness of the milk chocolate perfectly tempers the acidity of the passion fruit. Presented within a range of products, the fruity power of Mogador offers a brand new experience to guests. This time, the moist brioche is lathered with the tart Mogador jam. Whilst sipping on your hot chocolate, coffee or tea, you may pick at the assortment of chocolate bonbons and macarons. These sweets may only weigh a few grams, but that's enough to leave your senses quivering with pleasure.
French Gouters by Pierre Herme Paris will be available in The Balcon at the Sofitel London St James from the 9th October.