Freedom, space and value in classic French resorts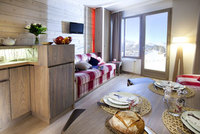 Pierre & Vacances offers a range of apartments through a number of French ski resorts including La Plagne, Les Arcs and of course Avoriaz. Whilst many are well versed in the financial benefits of self-catering apartments from Pierre & Vacances it is also well worth acknowledging the freedoms afforded by such accommodation. No set meal times meaning events and activities are not missed and local produce can be enjoyed when it does get to dinner time. Early bookings are subject to a discount of up to 20% discount.
Starting in La Plagne there are a wealth of activities not to be missed and from a base at one of Pierre & Vacances residences in the centre of the action. Whether it is the superluge derby or Urban Plagne in the later months of the season the resort is lively and ideal for a family ski holiday.
The Residence Les Nereides is in the Belle Plagne area of the resort, popular with families. The car free Belle Plagne is ideal for a family break whilst the skiing is perfect for begginers as well as the superb ski school selection. The residence itself is right in the action alongside the piste and near all the ammenities of the resort. Apartments range in size from 1 bedroom apartments to apartments sleeping up to 8. Arriving on the 21st December for 7 nights, including Christmas, prices start at £1,208, down from £1,509 (20% saving) for a 1 bedroom apartment sleeping up to 5.
The Residence Plagne Lauze is recently refurbished and is within the Plagne area of the resort. The residence has sports facilities, including pool and also a restaurant on site with the seven buildings of the development creating the feel of their own Savoyarde village. Apartments range from 2 people studio apartments up to 2 bedroom apartments for up to 6. Prices for a studio sleeping up to 4 arriving on the 4th January for 7 nights starts at £638, down from £797 (20% discount).
Les Arcs offers great skiing and the Premium Residence Le Village is amongst the best of the Pierre & Vacances options in the French Alps. The skiing is fantastic in the resort and marveling at the speed skiers in their skin tight suits blasting down the dedicated speed skiing piste is fascinating.
The Premium Residence Le Village features an enviable position within the most aesthetically pleasing area of the purpose built Les Arcs, in Arc 1950. The village is pedestrianised and has great views of Mont Blanc looming behind La Rosiere and is celebrating its 10th anniversary this year. Ski in, ski out accommodation is on offer in apartments ranging from 2 bedroom studios to 6 person 2 bedroom apartments. The residences also features a Deep Nature Spa by Cinq Mondes, an experience for all of the senses. Arriving on the 14th December 7 nights in a 1 bedroom classic apartment sleeping up to 4 starts at £733, down from £814 (10% discount).
The Residence Le Belmont is ideally located right at the foot of the slopes in Arc 1800. The location is also useful for other lifts and the village centre of this sprawling resort. A guest lounge with table football and pool is also available at this residence. A family friendly 2 bedroom apartment sleeping up to 7 arriving on the 18th January starts at £1,031, down from £1,289 (20% saving).
It is a year of celebration for both Les Arcs and La Plagne as this year marks the 10th anniversary of the Vanoise Express, the cable car linking the two resorts and creating Paradiski meaning it might even be the year to sample both resorts in one trip in terms of accommodation as well as on skis.
Avoriaz has a large Pierre & Vacances presence with a plethora of options for varying budgets from the luxury. The resort was founded by those involved in Pierre & Vacances meaning there is a burgeoning presence in the resort, growing through the years.
The Premium Residence L'Amara is situated within the recently developed L'Amara area of the resort featuring new restaurants, bars and shops whilst maintaining a great position close to the lifts. Apartments range from 1 bedroom to 5 bedrooms with 2, 3 and 4 bedroom apartments coming as either Classic or Superior specifications. Accommodation comes with a fully equipped kitchen that modern in appearance whilst maintaining an alpine charm with the use of wood and bathrooms are equally chic. The residence also has its own swimming pool, as well as being close to the Aquariaz complex, as well as other 'Algothem 'Deep Nature Spa' treatments and facilities within the residence including a sauna, steam room and gym. There is the option for a 'Chef at Home' service as well as a takeaway service from a number of local restaurants. Arriving on the 11th January a 2 bedroom apartment sleeping up to 6 for 7 nights starts at £1,481, down from £1,645 (10% saving).
The Residence Atria-Crozats is another of the more recent Pierre & Vacances developments in Avoriaz. Complete with a spa and the ability to provide 12 people apartments (2 combined smaller apartments) this residence is flexible and attractive to many. Ski slopes and the village centre are very easily accessed. Built in a traditional alpine style these apartments have been a success since their opening just a few seasons ago. Arriving on the 4th January prices for a 1 bedroom apartment sleeping up to 5 start at £821, down from £1,026 (20% saving).
So for a relaxing holiday where schedules are nowhere to be seen Pierre & Vacances has a multitude of options for varying budgets from those looking for a break as cheap as ski comes or for those used to five star chalets but in search for something less indulgent on the stomach this year.
For more information, visit pv-holidays.com/ski.