Prepare your tastebuds for the 10th annual Melton Mowbray Food Festival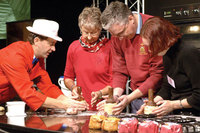 The 10th annual Melton Mowbray Food Festival returns to the Cattle Market in the town from 5-6 October 2013. The Melton Mowbray Food Festival is one of the largest regional food festivals in the country and this year, visitors can sample the local, traditional Melton Mowbray Pork Pies and Stilton Cheese, as well as a range of delicious foods from the region and beyond.
Celebrity chefs and regional cooks will be demonstrating a range of recipes in the Festival theatre and for the second year running there will be tutored beer tastings by one of the few Beer Sommeliers in the country. A family food and fun area will keep the kids entertained as well as teaching them about food in a fun and interactive way.
Visitors will also have the chance to try some of the medieval recipes popular at the time of King Richard III, whose remains were discovered in nearby Leicester earlier this year. These recipes include Sambocade - a baked cheesecake flavoured with elderflowers and Bosworth Jumbles - a sweet biscuit said to have been eaten by the King the night before the fateful battle at Bosworth Battlefield in 1485. In addition, Grayfriars, a new business from Leicester, will be promoting a medieval line of delicious drizzles, dressings and jams with some intriguing long lost flavours using ingredients such as marigolds, rose petals and mead.
The Festival takes place in the Cattle Market in Melton Mowbray - the UK's Rural Capital of Food and Drink - from 10am to 5pm on Saturday 5 October and from 10am to 4pm on Sunday 6th October 2013.
This year, new businesses are being called upon to come and launch their products at the Festival. Thanks to sponsorship from Tesco, the organisers are offering free stands to new businesses along with help and advice on how to prepare for the Festival and afterwards how to assess their business and make use of the contacts made.
Festival organiser, Matthew O'Callaghan said: "This is a great way for anyone with an idea they've always cherished to start a new business and launch it in front of thousands of eager foodies - with help from professionals already engaged with the food sector."
Tickets are priced at £6 on the day or £5 in advance from goleicestershire.com or in person from Ye Olde Pork Pie Shoppe in Melton Mowbray or the Visit Leicester centre in Leicester. For more details on the Festival, visit meltonmowbrayfoodfestival.co.uk.
A short break offer is available to help aspiring chefs and gourmets to get a real taste of the food and drink offer in Leicester and Leicestershire. The Gourmet Taste of Leicestershire break offers two adults a choice of three from five indulgent cuisine experiences and an overnight stay in a top, accredited hotel in rural Leicestershire from £109 per couple. Experiences on offer include cheese tasting at Melton Cheeseboard, cream tea at Stapleford Park Hotel, a Melton Mowbray Pork Pie tasting session at Ye Olde Pork Pie Shoppe, a gourmet lunch platter at the Red Lion Inn, and a brewery tour at Belvoir Brewery.
For more information on this short break or to book, visit goleicestershire.com/short-breaks.