Wheelwright 'one stop solution' for winter wheels and tyres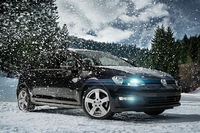 As the nights grow shorter and temperatures begin to plummet, wheel and tyre authority Wheelwright has released details of its extensive Winter wheel and tyre portfolio. Offering an incredible range that will cover over 95% of vehicles on the road in the UK, Wheelwright can supply both alloy and steel winter wheels, as well as a range of quality Winter tyres in every available size.
Despite three exceptionally harsh winters, and the fact that the UK is on the same latitude as many countries which have Winter Tyre legislation, the UK is most unusual in the fact that it is not a legal requirement to swap to a safer, grippier Winter tread once temperatures fall. Surveys have shown that many motorists still wrongly assume that they need to see snow on the ground before winter rubber provides a safety and traction advantage, whereas in truth, even on a bone dry and sunny day, if temperatures fall below 7°C, A winter tyre will dramatically out-perform an equivalent summer design, offering greater margins of braking safety and significantly more grip.
In addition to a multitude of well-known tyre brands to choose from, Wheelwright's easy-to-use site also has a wide range of steel and alloy wheels to mount them onto. The KFZ Steel range offers OEM quality rims that are more than up to the job of rugged Winter work. With their cost-effective purchase price and resistance to the salt and chemicals used in the colder months, these hardy wheels can also take the odd slide into a kerb, allowing your costly Summer wheels to spend the Winter tucked up warm and snug in the garage.
For those who simply can't live without the good looks of alloy wheels, Wheelwright has assembled an attractive range of German-made designs by Dezent that offer exceptional value for money and an innovative 'Nanotech 'finish to repel, dirt, water and salt for a long and durable life. As the perfect Winter shoes for your car, these designs balance classical good looks with ease of cleaning in the colder months. Full TUV approval also means quality is assured.
All wheel and tyre packages can be ordered online using Wheelwright's clever Shopatron technology, and then sent to your local dealer, ready fitted and balanced, to be bolted straight up to your car. All the best bits of buying online, but with the reassurance, advice and assistance of a trusted local retailer. Or, if preferred, buyers can have their ready-mounted package delivered conveniently to their doorstep for home fitment.
Commenting on Wheelwright's 2013 Winter Programme, marketing manager James Gray said, "Following on for the success of last year's offering, we have increased our portfolio this Winter to ensure that our customers – and their families – can equip their cars to be as safe as possible. Driving on Summer tyres in single figure temperatures is asking for trouble, as the rubber compounds and tread designs simply cannot work as well as rubber designed specifically for that purpose. Our packages start from only £348 + VAT For a set of 16" diameter wheels and tyres, and when you start to compare that to the cost of repairing or refurbishing your OE wheels, or worse still, the potential cost of damage should you lose control, not fitting Winter Tyres is the very worst kind of false economy."
For information on the Wheelwright Winter Portfolio, visit wheelwright.co.uk/winter-wheels-and-tyres.