Katarina Johnson-Thompson lines up to 'Go Get It' with new Nissan Micra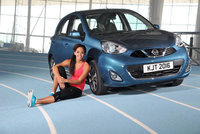 New Nissan ambassador Katarina Johnson-Thompson has been revealed as the face of the New Micra. The rising British heptathlon star and London 2012 Olympian will appear alongside the new supermini in a series of TV idents, embracing the Micra's 'Go Get It' attitude, as part of Nissan's sponsorship of Sky Living HD Drama, planned and brokered with Manning Gottlieb OMD and Sky Media.

The New Micra idents will be broadcast from Monday 23 September across Sky Living's popular drama programmes including Grey's Anatomy, Supernatural, Elementary and upcoming series Dracula and The Blacklist. Each TV ident features Katarina Johnson-Thompson demonstrating her 'Go Get It' attitude in a range of dramatic situations. The idents depict Johnson-Thompson going about her daily routine with her 'Go Get It' attitude, completely unfazed by the drama going on around her.

The new Nissan Micra combines fun with a fashionable, bold style and a 'Go Get It' attitude. It boasts significant upgrades and has helped make Nissan's B-segment range arguably the most competitive in the industry.

Katarina Johnson-Thompson said: "Last summer was an incredible experience for me and I'm proud of my heptathlon achievements so far, including a personal best and fifth place finish at the World Championships last month. I am delighted to be the face of the new Micra and its powerful 'Go Get It' attitude."

Jim Wright, managing director of Nissan GB said: "The New Micra delivers a confident performance. It appeals to a younger female audience with its interior makeover featuring the latest touchscreen technology and the two bold new colours stand out from the crowd.

"Katarina Johnson-Thompson epitomises a 'Go Get It' attitude and as a dedicated individual who excels in all seven of her chosen disciplines she was the perfect fit for the new Nissan Micra. She's ambitious, tenacious and is a positive influence on and off the track. She's the perfect ambassador for this car."

The 12-month sponsorship deal with Sky Living HD also includes a series of sponsored placements across Sky Living online.

To see Katarina Johnson-Thompson in the new TV idents see: bit.ly/17MlST7

To view the behind the scenes story with Katarina Johnson-Thompson see: bit.ly/16ijKi4

Nissan is Official Automotive Partner to Team GB and ParalympicsGB supporting the two teams on their 'Road to Sochi and Rio' and providing vehicles to the British Olympic Association (BOA) and British Paralympic Association (BPA). Nissan will apply its performance credentials and expertise in innovative technology to help enhance the squad's training regimes and overall performance.

Nissan is also a 'Tier One' sponsor and the automotive partner of the Rio 2016 Games, supplying over 4,500 vehicles to support the Olympic and Paralympic events.