It's the adventure of a lifetime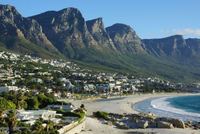 Rickshaw Travel is not a tour operator. It's not even a holiday company. It's a unique provider of travel adventures. Since 2008 and in 17 incredible destinations all across Asia, Latin America and Africa, Rickshaw has ensured its clients can enjoy and fully experience local culture and independent travel without stress or hassle . . . and now it has launched a brand new South Africa program.
This means independent travellers can take an epic self-drive tour across the Rainbow Nation, from the cosmopolitan Cape coastline through the verdant scenery of the Garden Route and into the heart of wildlife reserves. Every tour is made up of exciting modules and by combining a series of these trips, with a minimum choice of three modules, it's possible to build a truly unique experience of South Africa. It's so flexible.
The drives wind their way through three separate and stunningly beautiful areas, making it easy to plan a bespoke travel itinerary. Visit Cape Town and take one of life's great road trips with the Garden Route self-drive tour, set off on Big Five safaris in Kruger National Park, or delve into culture and nature with in the KwaZulu Natal. Breathe in the hot aroma of the verdant plains or cool mountain air; treat your taste buds to the local cuisine; listen to the sounds and songs of the villages. Always, the emphasis is on enjoying genuine local experiences, meeting local people, and allowing travellers to get a feel for the real South Africa.
And remember: this is a South Africa trip from Rickshaw Travel ¬– so there are no irksome escorts or bustling tour groups: this is a personal adventure, designed by the clients and enjoyed solely by the clients at their own pace.
That means, if guests choose to travel from Cape Town along the Garden Route, they're free to choose any of the mini-tours on the way, from cycling through the vineyards to singing with the Swazi. Or why not opt for Life on the Farm? Guests stay with a family on a working farm that's also home to ostriches, cows and sheep and can head out with the farmer on a tour to learn all about traditional farm life. With Clicking with the Xhosa, travellers can explore a welcoming township with one of its oldest residents, visiting the local school, the pub and even the home of the guide.
For wildlife lovers the Safaris in and around Kruger National Park must be top of the bucket list. By combining short safaris, adventurers can build a unique experience, staying in accommodation that ranges from comfortable tents to traditional rondavel huts. The three-day Escape Under the Stars tour takes guests into the heart of a private reserve in the greater Kruger, with a fantastic chance of spotting the Big 5. Of course, they can also simply relax by the swimming pool. The three-day tour costs £298 per person.
The African Kingdoms, Drakensberg & Wetlands is a self-drive itinerary that takes in tours of KwaZulu Natal, Swaziland and Lesotho and offers the chance to surf, snorkel or sunbathe on the east coast. As part of their holiday, guests can immerse themselves in local culture. In the Footsteps of the Zulus is a tour that last three days and costs £478 per person – the experience is priceless as travellers explore battlefields and monuments and enjoy two nights in a guesthouse amid the rolling hills of Kwa-Zulu Natal.
If it all seems simply too much to choose from, Rickshaw Travel also has suggested itineraries, such as its two-week A Taste of South Africa. This is a road trip to the best locations on the Garden Route topped off with a Kruger safari and takes in vineyards, mountains, blue lagoons, wild beaches and forested National Parks. £1,295 per person, based on two people sharing, and includes accommodation with breakfast, hire car and tours (excludes international flights, all other meals and excursions).
South Africa in Style, meanwhile, is perfect for the discerning traveller who wants to experience the Garden Route highlights with the luxury and comfort of category 4 accommodations – including a boutique hotel in Franschhoek and a safari tent with private Jacuzzi. Guests on this 15 day holiday can also sample gourmet cuisine, hike amid the beautiful landscape of the Swartberg and breathe in the ocean air on a spot of whale spotting in Plettenberg Bay. This 15-day dream holiday costs from £2,148 per person, based on 2 people sharing.
Guests can also opt for Mighty Mountains and African Kingdoms, an incredible three-week adventure in the east of the country. Not only does this trip take in the colonial splendour of Pretoria and adrenaline-filled wildlife safaris, sojourns with the local people of Swaziland and hippo spotting in St Lucia, but also trekking through the Drakensberg Mountains and on to Lesotho for pony trekking. This 20 night, self-drive trip starts from £1,488.
As you can see, with Rickshaw Travel and its new South Africa program, every trip is as big and as bold as the client's imagination. Intrepid travellers can begin building their very own South African adventure by taking a look at the full range of bite-sized South Africa tours online at rickshawtravel.co.uk.