Bali leads Far East charge in long haul holiday value chart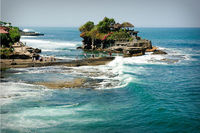 After three years at the top of the best value rankings, a 45 per cent price rise in Sri Lankan resort costs means that the Indian Ocean destination has lost its crown to Bali and dropped to fifth place in the sixth annual Post Office Travel Money Long Haul Report.
The Post Office barometer found that resort prices in Sri Lanka had risen for the second year running. A total of £54.45 for 10 tourist staples in Colombo, including a three-course evening meal for two with wine, drinks and suncream, was the biggest price rise in any of the destinations surveyed and 24per cent higher than in Bali (£43.91), the outright winner.
2013 prices in Bali fell one per cent to give the Indonesian island a clear lead over South Africa, where a 20 per cent year-on-year rise in the strength of sterling helped the country leap six places up the table of 32 long haul destinations to take runner up spot. At £49.57 prices for UK holidaymakers in Cape Town were 12 per cent lower than 12 months ago.
Had it not been for the sterling exchange rate impact on Cape Town prices, destinations in the Far East would have taken the top three places in the Post Office Long Haul Report barometer. Instead Vietnam and Thailand took third and fourth place respectively in the table.
After losing ground a year ago, a six per cent fall in Phuket resort prices (£54.39) has helped Thailand to close the gap on Vietnam. In sharp contrast, the Vietnamese barometer basket rose 18 per cent in Hoi An (£53.04). Despite this, Vietnam remains competitively-priced and has proved a 2013 success story as sales of its currency - the dong - grew 106 per cent year-on-year to top the Post Office's Fastest Growing Currencies league table.
Following a summer when long haul destinations took nine of the top ten Fastest Growing Currencies places, with sales increases exceeding 40 per cent, the winter sun budget looks positive for UK travellers. While sterling remains weak against European currencies, it has strengthened against many long haul ones. As a result, resort costs have fallen in half the destinations surveyed for the Post Office Long Haul Report, most often because of the stronger pound.
The biggest drop was in Jamaican resorts, where a levelling off in meal prices after last year's big increases, has resulted in a barometer fall of 36 per cent (£63.36). This has taken the Caribbean island into the Post Office Long Haul top 10 in seventh place.
Resort prices have fallen elsewhere in the Caribbean too – by one per cent in the Dominican Republic (Punta Cana, £75.04), six per cent in Antigua (English Harbour, £79.41) and seven per cent in Barbados (St James, £81.53). New to the Long Haul Report, resorts in Tobago emerged as competitively-priced at £78.45 for the barometer items while prices in St Lucia have remained on par with last year (Rodney Bay £95.68).
Theme park favourite Orlando emerged as best value of five USA destinations with a barometer total of £66.24. This made it the only US entry into the Long Haul Report top ten and a third cheaper than Miami (£96.84), the other Florida destination surveyed. A 14 per cent rise in prices this year made Miami more expensive than New York (£79.08), San Francisco (£82.41) and Washington D.C. (£82.88).
Destinations down under were again most expensive in the survey. The tourist items cost £121.35 in New Zealand (Auckland) and £124.69 in Australia (Darwin), although the Australian dollar's fall against sterling means prices are 10 per cent lower than last year.
Andrew Brown of Post Office Travel Money said: "After a summer when sterling bought less holiday cash for trips to Europe, winter sun tourists can look forward to seeing their pounds stretch further in many of the most popular long haul destinations. However, we advise them to consider the whole picture and not just the package price before booking.
"Look for a destination where the pound is worth more and where resort costs are low. They can check our resort prices at postoffice.co.uk/longhaul2013 and then change sufficient travel cash to cover the cost of those tourist items, especially meals. By changing more than £500, holidaymakers can get a better exchange rate at Post Office bureaux and on our website – and avoid the poor rate they would get by changing money at the airport."
Over 1,600 Post Office branches offer a wide range of long haul currencies on demand. With restrictions on importing Sri Lankan rupees, the Post Office recommends carrying cash on the Post Office Travel Money Card, a chip and PIN-enabled MasterCard accepted in over 28 million locations worldwide. All major currencies can also be pre-ordered at over 11,500 Post Office branches or online at postoffice.co.uk for next day branch or home delivery.