Alcohol-free bar gets the go-ahead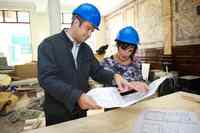 Nottingham is to be the location for the East Midland's first alcohol-free bar and restaurant as the site of the former Nottingham Building Society on Friar Lane will be converted into the Sobar.

The project is the work of Double Impact, the Nottingham-based drug and alcohol charity, after it received a grant of £340,419 from the Big Lottery fund. The bar will open in the new year and will provide lots of opportunities for people in recovery to gain work experience, training and employment as they work alongside permanent and voluntary staff.

It will follow a social enterprise model, where all profits generated will go back into the charity, allowing Double Impact to expand the range of recovery services on offer.

Richard Atkinson, fundraising co-ordinator for the charity, said: "It's fantastic to see months and months of planning finally come together. We are very excited to be working in such a beautiful building and we can't wait to get the bar up and running in the new year.

"The business model behind the bar is hugely important to us as it allows Double Impact to provide extra support to help service users on the road to recovery. There's never been anything like this in Nottingham and I'm sure lots of people would like to visit us for a business meeting in the day, lunch with the family or a place to meet friends on a Saturday night."

The plans for Sobar have been popular with Double Impact's clients. Georgia Brown, one of the charity's service users, explained: "These sorts of projects are exactly what people need to help them gain real-life experience and get their lives back on track. Service users need the confidence boost to get back into the working world, and see their recovery journey go from strength to strength."

With its alcohol-free bar, the 60-seat venue will also serve food in the daytime and be available for evening events.

For more information on Double Impact, visit doubleimpact.org.uk.