Brits account for 29% of World Cup searches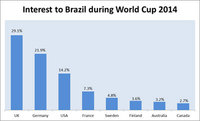 Travellers have already started searching for their hotels during the 2014 FIFA World Cup, according to hotel comparison website trivago.co.uk. Brits accounted for 29.1 per cent of all hotel searches made on trivago during June, July and August 2013 for any Brazilian city during the World Cup period (12th June to 13th July 2014).
Following the UK was Germany, which accounted for 21.9 per cent of all searches. In third place was the USA with 14.2 per cent of all searches, followed by France with 7.3 per cent and Sweden with 4.8 per cent.
The 2014 FIFA World Cup will take place in a total of 12 Brazilian cities between 12th June and 13th July 2014, including Rio de Janeiro, Brasília, São Paulo and Fortaleza.
It is surprising to learn Brits are already making travel plans, considering a British team has yet to qualify for the 2014 World Cup. However, with Brazilian hotel prices likely to soar during this period, perhaps it is wise to book early.