Nissan Leaf to star at East Winds Film Festival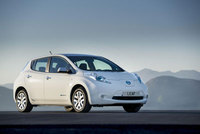 The 100% electric Nissan LEAF will play a starring role at this year's East Winds Film Festival – the UK's largest celebration of East Asian cinema outside of London.

Now in its third year, the prestigious four-day festival is staged by Coventry East Asian Film Society in association with Coventry University and has grown to become an important fixture on the Midlands' arts calendar.

The British-built LEAF – the world's bestselling electric car – will be used to chauffeur VIP guests, including major East Asian movie stars and directors, to screenings and lectures between October 31 and November 3.

Nissan Executive Vice President, Andy Palmer, who holds an honorary doctorate of technology from Coventry University, will be among the guests at the official opening of the festival. He said: "Nissan is absolutely delighted to support what is now one of the most important showcases for East Asian cinema in the UK and a very important cultural event for the local community.

"We see great synergy between the pioneering technology of the LEAF and the exciting cutting edge nature of the cinema to be screened during the festival."

Spencer Murphy, Senior Lecturer in Film and Visual Culture and the organiser of the East Winds Film Festival, said: "I am very proud to confirm that East Winds is returning for its third year at

Coventry University. I am also delighted to be working alongside our incredibly supportive festival partner Nissan once more on this wonderful celebration of East Asian film, culture and society.

"We have worked harder this year to bring to Coventry a more varied and exciting programme of films to our students and to the wider public, with something to cater for every audience."

This year's festival will feature a total of 12 exclusive film screenings in The Hub – the recently opened building with a state of the art digital 3D cinema facility at the heart of the university campus.

It will open with the European premiere of 'Once Upon a Time in Vietnam' – one of the year's most eagerly anticipated East Asian action films, written by, starring and directed by Dustin Nguyen. Tickets for the East Winds Film Festival, along with further details of the films to be screened, can be booked by visiting eastwindsfilmfest.com.