Totally India - Now in your hands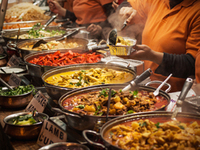 Following a soft 'online' launch earlier this year, the Totally India brochure has now been launched with the addition of yet more themed holidays including Budget Adventures, Food Adventures, Golf Adventures and Motor Adventures – providing the chance to discover India by motorbike.
And, with the Rupee weakening by around 20% in recent weeks, costs in India are lower than they have been for some time making now an ideal time to visit.
Comments co-founder of Totally India, Derek Moore, one of the UK's leading authorities on adventure travel holidays: "My India-based partner Bashir and I were so enthused with our new Totally India programme that we kept thinking of even more things to add to the programme.
"The result is the most comprehensive, dedicated India brochure available in the UK today, which is packed with a hugely diverse range of holiday ideas to this wonderful, colourful destination. It really is, Totally India."
Here are the latest additions to the new brochure:
Budget Adventures – These tours are designed in the same way as the rest of the programme but allow people to pay for any sightseeing as and when they want it; ideal for those who, for example, may already have visited the country and have set ideas of which places they wish to see. Prices start at £395 pp (two sharing) for the nine day 'Discovering the Footsteps of the Mughals' tour.
Food Adventures – Three tours, each providing a chance to enjoy a culinary adventure in one of the world's tastiest destinations! The itineraries cover the north, south, and one which combines the two. Prices start at £575 for the nine day, Kerala-based, 'Taste of Southern India' trip.
Motor Adventures – If actor Ewen McGregor's motorbike adventures have whetted your appetite for a two-wheeled exploration of India, now is your chance. There is a choice of two tours, one in the north and one in the south. There is also a tour which combines sightseeing in the Golden Triangle with attendance at the India Grand Prix in Delhi. Trips cost from £895 pp for the 10-day Mughals, Tigers and F1 Motor Racing. Motorbike tours cost from £1465 pp for the nine day North India Motorbike Safari.
Golf Adventures – a choice of itineraries that combine exploring some of India's famous cities and tourist sites, with playing rounds of golf at a variety of golf courses, including Jaipur and one which is adjacent to the Taj Mahal. Prices start at £995 for the nine day Golf in the Vale of Kashmir.
Most itineraries are 7-9 days in duration and will be led by knowledgeable Indian tour guides who know their own country as no visiting tour leader can.
The majority of tours start on a Saturday (details in brochure/online) however the Private Car Tours, with private driver, can commence any day of the week.
Prices do not include international flights but these are bookable through Totally India on request.
For further information, visit totallyindia.net.