Corinthian Travel launches programme to Southern India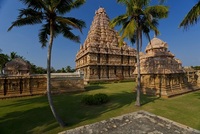 Cultural holiday specialist Corinthian Travel, well-known for its private, chauffeur-driven holidays to north Africa and the Middle East, has expanded further into Asia with a comprehensive programme to southern India, which features 13 initial itineraries from the nine day Kerala Backwaters and Beaches, to the 33-day-long Grand Tour of South India.
Comments Hugh Fraser, Founder of Corinthian Travel, "We believe that this is the most complete offering to southern India available;.our staff know the country inside out and are convinced that between these 13 itineraries, no stone has been left unturned as far as discovering this wonderful part of the Indian subcontinent is concerned.
"The region is home to an ancient Dravidian culture rich in magnificent temple architecture, stunning Chola artwork, beautiful scenery, expansive beaches and wildlife that includes tiger, elephant and crocodile. From lazy holidays in Kerala, to discovering Tamil Nadu's culture, unveiling little known Karnataka's ancient cities, and snorkelling off the Andaman Islands we will make your South India holiday as enthralling and near perfect as possible."
Here are just two examples of Corinthian Travel's itineraries to southern India:
Spiritual Tamil Nadu: 13 days from £1645 pp
Renowned for its magnificent temples, Chola bronzes, and unique cuisine, Tamil Nadu has a distinct Dravidian culture and is one of India's most historic states. Highlights of this private tour will include a city tour of Chennai (Madras), exploring the narrow alleyways of Mylapore – to gain an insight into the Tamil way of life – the rock-cut temples at Mahabalipuram and the former French colony of Pondicherry. Also included is the Chola imperial capital of Tanjore and a drive to the Chettinad region, where you can sample the regional cuisine, and discover the ornate mansions built by the Chettiar bankers and merchants in the 19th century. The Spiritual Tamil Nadu holiday concludes with two nights by the golden sands of the Bay of Bengal in the small fishing village of Covelong.
The holiday costs from £1645 pp (two sharing) which includes 12 nights' accommodation, some meals, private transfers, sightseeing and local guides.
Kerala: Backwaters and Beaches: 9 days from £795 pp
This extremely relaxed, privately chauffeured tour, begins amongst the network of canals, lagoons and lakes that form the Kerala backwaters. After a day to unwind at your tropical retreat (with optional Keralan Ayurvedic spa treatments), discover the ancient spice emporium that is the port city of Cochin and take a harbour cruise to see the landmark Chinese fishing nets. Next, board a traditional converted houseboat and explore the backwaters with their tall swaying coconut palms and laid-back villages, then continue to the sun-kissed shores of the Indian Ocean. The holiday concludes with three days to enjoy the beautiful tropical landscape of Marari with its golden sands.
The holiday costs from £795 pp (two sharing) which includes eight nights' accommodation, some meals, private transfers, sightseeing and local guides. For more information, visit corinthiantravel.co.uk.
Corinthian Travel offers recommended tours and tailor-made itineraries to holidays in Iran, Turkey, Egypt, Oman, Dubai, Abu Dhabi, Israel, Jordan, Lebanon, southern India and Sri Lanka, with dedicated expert guides, the finest hotels, and private sightseeing.