Fits.me transforms virtual fitting room accessibility with technology breakthroughs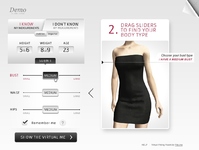 Virtual fitting room solutions provider Fits.me has made two major technology breakthroughs that dramatically reduce the retailer-side logistics of setting up a virtual fitting room and simplify the customer journey through a virtual fitting room respectively.
One-size garment measurement eliminates major deployment barrier

Fits.me has cracked the problem that retailers face in acquiring garment measurements for hundreds of garments in multiple sizes – a problem previously common to all non-photographic virtual fitting rooms. To deploy Fit Advisor, retailers now need to measure just a single size of garment.
Peter Rankin, VP Sales, said: "This is going to put our virtual fitting rooms on the agenda for any retailer previously put-off virtual fitting rooms by the prospect either of locating, aggregating and measuring entire collections or of accepting the inferior technique of using design measurements instead of actual measurements.
"One-size garment measurement means a massive reduction in the logistics effort needed by retailers to deploy Fit Advisor, and ensures near-immediate virtual fitting room updates when new garments become available. The typical 2.5% loss of accuracy is negligible in terms of fit information, so their customers enjoy the same great high level of fitting room information," he added.
Shoppers need to know just their age, weight and height

Fits.me is also removing complexity for shoppers. Virtual fitting rooms have always relied on a shopper to provide personal measurements (or, in some cases, subjecting themselves to some form of scan). However, many shoppers do not know their measurements and self-measurement is widely regarded as an opportunity for mistakes.
Fits.me's second breakthrough technology means shoppers no longer need to know the less commonly-known personal measurements. Thanks to a unique algorithm and Fits.me's ownership of the world's largest database of body measurements, Fits.me can now estimate body measurements with uncanny accuracy based only on a shopper's age, height, weight and general body shape.
As with the one-size garment measurement breakthrough, months of testing has shown that the typical loss of accuracy is negligible in terms of providing fit information. Shoppers retain the option of entering their measurements directly if they prefer to do so.
Peter Rankin said: "It means one barrier less to shoppers using our fitting rooms, and therefore to retailers seeing higher conversions and reduced returns."
Fits.me has 26 virtual fitting rooms deployed in nine countries. New virtual fitting rooms deploy frequently. Clients include Austin Reed, Avenue 32, Baukjen, Bilka, CC Fashion, Crew Clothing, Dirty Jerz, Ghost, Hawes & Curtis, Henri Lloyd, HUGO BOSS, Isabella Oliver, John Smedley, L.K.Bennett, M&Co, Mexx, Musto, Nicole Farhi, Pretty Green, QVC, Savile Row Company, Superdry, Top Vintage, Thomas Pink and Viyella.