Foodie fun with the family this half term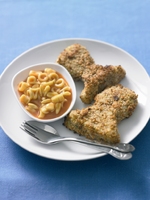 With more time to spend together as a family, October half-term is a great opportunity to have fun getting the family cooking together. Kids just love to help in the kitchen and with Canned Food UK you'll find plenty of simple recipes, from wholesome savouries to tasty sweets, which will delight even the fussiest of eaters.
Teaching kids about the importance of wholesome cooking this half-term can be fun - especially when it comes to making Canned Food UK's Fun Fish cakes with Vegetable Mash. This dish is the perfect tea-time pleaser and is a great way to get kids interested in what is on their plate. The recipe uses canned tuna, which contains essential nutrients that support muscle function and also cleverly disguises one portion of the recommended 5-A-DAY. For extra fun, get kids to help mould the fish cakes into a fishy shape before baking!
As the nights draw in and the temperatures drop this October nothing beats baking with the family to help cheer up a cold autumnal evening. Why not try baking a tasty Toffee Apple Cake or a classic Cinnamon Apple and Pear Crumble Cake with Custard? These recipes use delicious canned fruits that help to make up part of your child's 5-A-DAY. Not only this, but canned fruit is great value for money and ready to use straight out the can whenever you need, so you can trust cans to help save you both time and money.
All of the ingredients used in Canned Food UK recipes are readily available in supermarkets and you'll be amazed at the variety of dishes you can create when you simply keep a few cans in your store cupboard.
For more information and recipe ideas for cooking with the kids this October half-term, head to cannedfood.co.uk, where you will find tasty dishes designed by celebrity chef James Martin, and download the free 'u.can cook' iPhone app to discover free step-by-step recipe videos and exclusive tips.
Recipes:
Fun Fish cakes with Vegetable Mash
Ingredients:
200g potatoes, chopped, boiled & drained (or readymade mash)
200g can tuna, drained
200g can prawns, drained
300g can green beans, drained and chopped into pea-sized pieces
200g petit pois, drained
knob of butter
splash of milk
2 medium sized eggs, hard-boiled & chopped (optional)
1 tbsp chopped fresh parsley
Fresh ground pepper
For the coating:
2 medium size eggs, beaten
150g fresh wholemeal breadcrumbs
For the accompaniment:
400g can pasta shapes

Method:
1. Preheat the grill to a moderate heat.
2. Mash the potatoes with the butter and milk, add the chopped green beans and petit pois, mix well and season with black pepper.
3. Add the fish, hard-boiled eggs and the parsley & mix well.
4. Divide the mixture into 6 or 8 fun fish shapes. Place on a greased baking sheet & chill for at least 10 minutes until firm.
5. Dip each fish shape into the beaten egg and coat with the breadcrumbs, chill for up to 1 hour, to firm.
6. Grill for 5 minutes each side, or until golden brown & heated through.
How to serve:
Serve with pasta shapes.
Canny Fact:
You can find sustainable fish and seafood at the supermarket.
Cinnamon Apple and Pear Crumble Cake with Custard
Ingredients:
For the cake:
½ x 385g can sliced apples, drained
½ x 410g can pear quarters, drained
180g caster sugar
180g butter
150g self raising flour
50g ground almonds
3 eggs
1-2 tbsp milk
For the crumble:
60g caster sugar
90g butter
120g self raising flour
2 tsp cinnamon
To serve:
1 x 425g can custard
Method:
Preheat the oven 180C/ 350F/Gas4.
Grease and line the base of a 23cm round, deep cake tin.
Cut the apples and pears into slices and toss with half the cinnamon and set aside.
Crumble:
1. Rub the butter into the flour with your fingertips until it resembles fine breadcrumbs.
2. Add the remaining cinnamon and sugar; mix well and set aside.
Cake:
1. Beat the butter and sugar in a large bowl until pale.
2. Add the remaining ingredients and beat until combined.
3. Pour the mixture into the cake tin, place the fruit slices on top and sprinkle with the crumble mixture.
4. Bake for 50-55 minutes in the middle of the oven until firm and golden.
5. Cool in the tin before transferring to a wire rack.
How to serve:
Serve warm, or cold with a generous helping of creamy custard.
Toffee Apple Cake
Ingredients:
385g can apple slices, drained, roughly chop half of the apple
397g can caramel (found at the supermarket in the canned milk section)
150g butter, softened
150g caster sugar
3 medium eggs, beaten
175g self-raising flour, sieved
Crème fraîche to serve
Method:
Preheat oven to fan 160°C, conventional 180°C, gas 4.
Grease and line the base of a 22-23cm cake tin with baking parchment.
1. Using an electric whisk, cream the butter and sugar together until light and fluffy.
2. Gradually add the beaten eggs, with a little of the flour after each addition.
3. Gently fold in the remaining flour until all the ingredients are combined.
4. Add chopped apple and gently swirl in ¾ can caramel – do not over-mix.
5. Pour the mixture into the tin; arrange the remaining apple slices over the top of the cake, cutting any thick slices lengthways.
6. Spoon the remaining can caramel over the top of the cake, then bake for 1 hour 15 minutes or until firm and golden brown.
How to serve:
Delicious served warm with crème fraîche.