Students learn basic culinary skills with Mamma's Pizza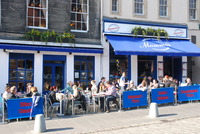 Away from home for the first time and don't know how to cook for yourself? Help is at hand as Edinburgh student lettings specialist Cullen Property is teaming up with Mamma's Pizza to help students make easy and tasty meals at home.
The company is inviting students to a cookery demonstration on Tuesday, 22 October showing them how to make their own delicious pizza, lasagne or flavoursome fajitas at home. To top it all off, guests will learn how to make a quick and indulgent chocolate cheesecake.
"A recent study found that about one in ten students never cook for themselves", explains Cullen Property's Operations Director Steve Coyle.
"That's quite an astonishing number, considering it's much cheaper to make your own meals and it's a great way to enjoy a night in with your friends and flatmates.
"We've teamed up with the professionals at Mamma's to show students a few quick and easy recipes that won't break the bank."
The cookery demonstration will be held at Mamma's Pizza in the Grassmarket on Tuesday, 22 October, 4-6pm. Guests will be shown how to make pizza dough as well as a tomato base for pizza and lasagne before picking their own toppings including classics like salami and jalapeno peppers but also a few more adventurous flavours.
It's a great opportunity to try more exciting flavour combinations not often found in the frozen food aisle of a supermarket.
Chefs will demonstrate making a tasty filling for fajitas, help guests mix their own spices and make a guacamole sauce from scratch. All guests will be treated to tasters on the night as well as a goody bag containing recipe cards and a dinner voucher.
Spaces for the event are limited and tickets cost £10 per person. Tenants in properties rented through Cullen Property will be offered free tickets. To book your space, email rsvp[at]cullenproperty.com.
For further information visit cullenproperty.com and mammas.co.uk.