Croatia hits summer high with UK holidaymakers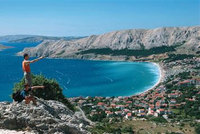 299,842 Brits holidayed in Croatia between January-August 2013, a boost of 24 per cent on the same period in 2012, according to the Croatian National Tourist Office (CNTO).
August alone saw 92,001 British visitors to Croatia's shores, its highest figure since the peak of the 1990s and up an incredible 23 per cent on last year's figures.
In total Croatia welcomed 9,131,905 foreign visitors in the same period, a six per cent increase on the 8,583,908 arrivals between January-August 2012.
"We've had a fantastic summer season but there's still more to do if we're to reach our record-breaking visitor figure of 500,000 in 1990," said Tonko Rilovi?, UK and Ireland Director of the CNTO.
"The UK market is incredibly important to us and to maintain this growth we're looking to show British visitors that Croatia offers more than just stunning coastline. We plan to promote our historic cities, eight national parks and the packed calendar of music festivals all year round," continued Rilovi?.
"We will also look to strengthen our position as a top short-haul destination in 2014. Our joining the EU this year means it's even easier to travel to Croatia and at less than two and a half hours away from the UK, an affordable family-friendly holiday or an adrenaline-raising active break is actually much closer than you think," he added.
This year has seen a number of new routes, new festivals, attractions and promotions from tour operators, meaning British travellers have even more flexibility and choice when booking a trip to the Adriatic hotspot.New developments in 2013 include:
Jet2 doubling its Croatia product with more regional flights to Pula from Glasgow, Manchester, Newcastle and Leeds
Unknown Festival and Terraneo joining Croatia's extensive live music line-up this year
The opening of the revamped four star camping site, Camping Krk, on Krk Island
Tourdust's launch of a new collection of family adventure packages in Dubrovnik
The opening of the Zagreb Eye Viewpoint which offers panoramic views of the capital
Boasting a diverse range of home-grown gastronomic delights, 1,244 idyllic islands and a variety of affordable accommodation, including modern hostels, quirky B&Bs and luxurious five star hotels, Croatia is set to welcome even more Brits before the end of the year.