Snoworks add Ski Courses in the resort of La Tania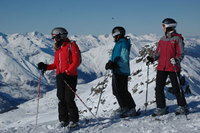 Snoworks Ski Courses have added brand new programs to the resort of La Tania for the 2013-14 winter ski season to complement their other locations across the Alps.
La Tania is situated within the world's largest ski area, Les 3 Vallées (The 3 Valley's), with access directly into the Courchevel and Meribel ski system.
The resort prides itself on being a bit of a secret gem within the world famous Three Valley's ski area and provides all the skiing available to its neighbours, but with a more cosy, village atmosphere. This also means skiers can enjoy the slopes of Courchevel whilst paying far less for their accommodation.
Snoworks are offering a variety of courses in La Tania for this coming winter season including, first time beginners, all-terrain, off-piste and backcountry. This means that skiers of all levels can enjoy experiencing the area with the highly regarded Snoworks team that includes Phil Smith, Lee Townend and Emma Carrick Anderson.
The beginners program is a brand new course for this winter and runs over 5 days starting January 26th, 2014 in La Tania. It's also available in the resort of Tignes during December.
The highly popular all-terrain courses are suitable for intermediate skiers (red runs) and upwards, ensuring you get the most out of the mountain. The go anywhere week includes on and off-piste, bumps and steeps and will bring out the best in your skiing. Dedicated off-piste and backcountry courses are also available for skiers looking to get away from the marked runs and ski powder snow conditions in some of the world's best resorts.
Courses in the resort of La Tania take place on the following dates and run for 5 consecutive days:
Jan 26 > All-Terrain & Off Piste
Jan 26 > Beginners & Novices
Feb 02 > Backcountry
Mar 09 > All-Terrain
Mar 23 > Off-Piste
Mar 30 > All-Terrain
All courses cost £325.00 per person for 5 half days with a Snoworks instructor with the exception of the backcountry course which is £455.00 per person for 5 full days with a Snoworks instructor.
Travel and accommodation in La Tania can be arranged through Silver Ski with packages including flights, transfers and half-board chalet accommodation starting at £569.00

For more information, visit snoworks.co.uk.