Toyo Tires releases Snowprox S943 winter tyre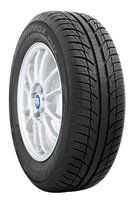 Just in the nick of time for Winter, the latest in a long line of Snowprox tyres from respected Japanese manufacturer Toyo features several innovative new design features, making it the perfect way to travel safely during the colder months.
The new tyre, labelled the Snowprox S943, has been designed to work not only in deep snow and on ice, but also in colder weather on perfectly dry or wet tarmac. During the rainy season, its improved EU label graded rubber also offers exceptional wet grip, yet Toyo's engineers have managed to achieve this without compromising the tyre's deep-snow performance. Put simply, this is a tyre that can cope with anything the elements can throw at it.
Wear-life was also an important consideration from the outset, so the special polymer and silica compound balances this carefully along with lower rolling resistance and improved braking performance. 3D multi-wave sipes reduce pattern noise on dry tarmac whilst preventing irregular wear.
The polyester casing itself features the very latest production technology from Toyo's state-of-the-art manufacturing facility and promises high speed durability and a wonderfully linear and telegraphic steering response. Its lightweight construction also assists in reducing the recipient vehicle's overall CO2 emissions.
In sizes ranging from, 165/70/14 right up to 224/45/17 the new Snowprox S943 will ensure safe progress as soon as temperatures drop into single figures, right through the depths of Winter and onwards until Spring. Prices will be in line with the rest of the Toyo Tires range.
For more detail on this or any other Toyo Tires product, visit toyo.co.uk.