Autumn breaks boom at UK's holiday parks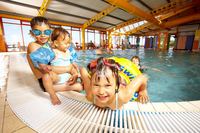 Autumn is shaping up as Summer Mark II with Britons booking a record number of October seaside get-aways, according to one of the country's largest holiday park groups.
Park Holidays UK says a recent surge of bookings for October breaks, far higher than last year, suggests that families are keen to re-run their memories of 2013's glorious summer.
Now the group, which has 23 coastal parks from Suffolk round to Devon, says it plans to broaden demand even further by making available 5000 extra holidays at a fixed low price.
Each will cost from just £54.00 for a family of up to six people taking either a long weekend three-night break, or a four-night mid-week stay.
It means that the cost per person per night could work out at just a few pence over £1.50.
Park Holidays UK says that the super-deal is a celebration offer to mark the end of a year which has seen families finally rewarded for their faith in Britain's summer.
But the £54.00 holidays - which also include use of the parks' pools and leisure facilities - won't be the group's final fling before the shutters come down on holiday 2013.
It plans to announce a series of additional booking incentives over the coming weeks, all designed to provide families with an excuse for a last hurrah.
Free food and drink coupons, free cuddly toys for kids, free stays for pets, and extra savings for families with toddlers during term time are all waiting in the wings.
They will be posted on the company's website (ParkHolidays.com), although subscribers to the group's free newsletter will be given a head start on claiming the offers.
Park Holidays UK director Tony Clish said that the autumn offers are an appropriate way to end the 2013 holiday season on a high: "Many people have clearly decided that summers like this year's simply shouldn't be allowed to fizzle out, and are determined to party on into October," he said.
"As the month also includes a school half-term, we've decided to lay on as many opportunities as possible for people to enjoy an affordable final break.
"The extra fixed-cost holidays we are introducing are set at our lowest-ever price point this year, but their numbers are limited, and early birds are in with the best chance," added Tony.
People wishing to receive email alerts about these and other offers can register by clicking the "newsletter" link at ParkHolidays.com.