Sailing Cape Horn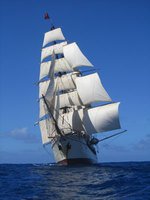 Rounding the Horn was and still is a high light for seaman and formed a real achievement in their maritime career.
Following the traditional sailing trade route, three Dutch Tall Ships will attempt a real Cape Horn Rounding at the end of 2013 as the start of the second half of their 'round the world' voyage. The route will take in 5400 miles of only water and the one very infamous Rock. This will be a long voyage through the South Pacific in the best maritime tradition. Without using the engine during the last 3000 Miles of the voyage, we sail from 50 degrees South in the Pacific, to 50 degrees South in the South Atlantic, around Cape Horn.
Sailing experience is not required and all nationalities and ages (15 yrs up) can participate. Individual travellers are very welcome as are couples and small groups. Expect to meet people of all ages from all walks of life. As one team you'll sail to new horizons and experience all aspects of a sailor's life on board: The wind, the sea, new friends and adventure.
The permanent crew explains everything about navigation, sail handling, square rig sailing and more as the voyage crew learn the language of the sea. The ships all sail 24 hours a day and at sea a watch system applies which means everyone takes turns on look-out.
Due to cancellation a few spots have opened up on board for the Cape Horn rounding for guest voyage crew.
Take this opportunity to be part of this unique adventure. Sailing experience is not needed but a big thirst for adventure is a must.
For more information, visit anotherworldadventures.com.