Wake me up when the first leaf falls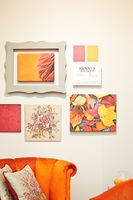 Autumn is well and truly here, with many people already getting their Christmas plans underway. We are finding that what is in fashion in the world of furniture, chops and changes as often as clothes and hairstyles. So how can you ensure that you're on trend, without having to constantly alter your home and work spaces? Max Clements, expert designer at luxury furniture manufacturer Parker & Farr, shares his predictions for what to look out for this season:
A lot of this season's colour trends have taken inspiration from the glamour of the Parisian catwalks and there are some really exciting colours emerging. Expect to see glowing bronzes, coppers and lively corals, all of this season's fiery autumnal shades.
Underlying earthy hues in particular are making a presence as we anticipate the re-interpretation of old Mediterranean Terracotta with contrasting soft blues and greens; this season note the influence of classic and eclectic global styles.
Before you roll your eyes about this next colour (believe me I have surprised a few people when showing them this in action) fifty shades of grey isn't just a novel. People are really beginning to have fun with all its respective tones, gun metal, silver and charcoal, combined with strong accent colours like orange and deep fuschia, work surprisingly well.
It is not just colour that is making a splash, we are also starting to see the return of older print techniques. The improvement in digital technology used for reproducing archive designs is undeniable. The developments allow access to inspirational vintage prints going back to the mid-twentieth century from places such as the V&A museum and beyond. As a result, we anticipate pieces inspired by Willow pattern and Delft China.
This innovative digital technology has also injected life into the printing style of the arts and crafts movement. This had a revival in the early mid-twentieth century art which is set to return. The simplified motifs are being brought back to life in the form of wood block prints producing distinctive, fresh designs. Keep an eye on evolving influences that constitute the quintessentially English feel: classic with elements of quirkiness.
Finally, and lets face it, we can't hide the fact that, come October, designers always love to use traditional autumnal colours. Warm fall oranges will be bleeding into the metallic shine of winter, giving a cooler, more contemporary edge to interiors.
You can see how some of these trends are showcased with Parker and Farr's latest collection. For more information on Parker and Farr and the Interior Designers Privilege Card, visit parkerandfarr.co.uk.