Dr Bronner's magic autumnal scents - it's not just soap!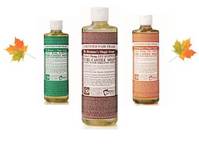 World renowned author, Albert Camus once said: "autumn is a second spring when every leaf is a flower." Every leaf is a flower and every scent has a purpose…. This autumn, renovate your bathroom with these trendy and 100% fair trade approved soaps by leading organic soap brand from the USA Dr.Bronner's. Let the beautiful autumn packaging and wondrous scents immerse you into the season while you have an indulging shower or a cozy bath.
Made from 100% organic ingredients and renowned for their multi-purpose benefits (18 uses in just 1 bottle), the Dr. Bronner's Magic Organic Liquid Soap is your one stop autumn essential. Infused with coconut, olive, jojoba and hemp oils, these fair trade approved liquid soaps are delicately scented with essential oils to invigorate, calm and uplift.
The aromatherapy properties of the eucalyptus will open your pores and clear your sinuses, as well as fight away those nasty bugs! It will also envelope your body with its warm invigorating vapours and send you into a state of calm. The heavenly almond scent will bring cosiness to your bathroom and give you that instant warm feeling, while the tea tree soap, with its natural antiseptic properties, will help to heal cuts and bruises as well as skin conditions like acne dermatitis and psoriasis.
For more information, visit drbronner.co.uk.