Celebrate New Year's Eve in Key West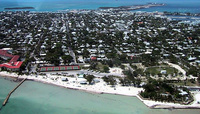 Visitors to Key West, the Florida Keys island at the southernmost point of the continental USA, can welcome in 2014 at four offbeat, warm-weather celebrations this New Year's Eve.
Thousands of people are expected to gather on Key West's legendary Duval Street to ring in 2014 by embracing a Keys tradition that rivals the famous "ball drop" in New York's Times Square. The Southernmost City celebrates with the descent of a 6-foot red high heel shoe carrying drag queen Sushi at the Bourbon St. Pub/New Orleans House complex. Seconds before midnight, the high heel bearing a lavishly gowned and coiffed Sushi is to be lowered from the second-storey balcony of the complex toward the cheering crowds below. As midnight strikes and the new year officially begins, Sushi will land and pop the cork on a ceremonial bottle of champagne. Live entertainment rounds out the evening and VIP balcony tickets are available.
Just a little further along Duval Street as the clock chimes midnight, visitors can gaze in wonder at the "drop" of a gigantic manmade conch shell, the symbol of the Florida Keys, to the flat roof of Sloppy Joe's Bar. Thousands of spectators watch and applaud the annual gala, emceed by a rooftop host and featuring a countdown to midnight recorded on a huge clock. At midnight, the shell descends and cheers erupt. Live music on Sloppy Joe's indoor stage rounds out the revelry.
At the Ocean Key Resort, nestled on Key West Harbor beside Mallory Square which is the site of Key West's nightly sunset celebration, plans call for a huge replica of a Key lime wedge to splash down into a larger-than-life margarita glass as crowds welcome the new year on an oceanfront pier. VIP tickets including an elaborate buffet dinner four-hour open bar are available, and at 10:30pm all visitors can enjoy a free performance by Key West's Big Bawdy Burlesque Show.
In Key West's Historic Seaport, New Year's Eve revelry celebrates the island's colourful seafaring heritage. Just before midnight, a pirate wench is to begin her descent from the top of a tall ship's mast as cannons boom. Seaport attractions also include live music, dancing and festivities at the Schooner Wharf Bar.
For further information on New Year's Eve in Key West, visit fla-keys.com/calendarofevents
For further information on Key West, visit fla-keys.com/keywest
For further information on Ocean Key Resort, visit oceankey.com
For further information on the Florida Keys & Key West, visit fla-keys.co.uk
Bon Voyage Package:
Tailor-made US travel specialist, Bon Voyage, offer a seven-night New Year package to the Florida Keys from £1575 per person which includes return flights from London Heathrow to Miami with British Airways, 2 nights in the Marriott Key Largo, 3 nights in the Silver Palms Inn, Key West, and 2 nights in the Postcard Inn, Islamorada, and convertible car hire. The New Year package departs 27 or 28 December for seven nights.
To book, visit bon-voyage.co.uk.