All-suite Maxx Royal brand unveils new Maxx Royal Kemer at WTM 2013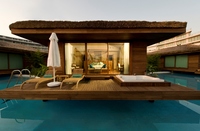 The luxury Voyage Hotels Group is expanding its all-suite Maxx Royal brand with the launch of its newest resort hotel Maxx Royal Kemer on the Turkish Riviera in 2014 with all details unveiled at this year's WTM.
The all-suite Maxx Royal Kemer will be the second property under the brand, augmenting the award-winning Maxx Royal Belek Golf & Spa, and like its sister resort will be an all-suite hotel, adopting the unique Maxx ultra all inclusive concept. Nature will also be a key element, with its setting spanning three bays and a private beach surrounded by the Taurus Mountains and the Mediterranean.
Mehmet Ersoy, Chairman of parent company ETS Group, said: "At the time of bringing Maxx Royal Belek Golf & Spa to life, Voyage Hotels was already a truly established brand in Turkey. After the great success of the first Maxx Royal in Belek, it is time for the newest edition, Maxx Royal Kemer, to follow and develop along the same path."
Details of the new hotel will be unveiled on 'Maxx Royal Hotels & Voyage Hotels' stand, EM955 at World Travel Market, where Maxx Royal Belek Golf & Spa has been shortlisted as the best destination choice for a honeymoon in the inaugural Amadeus & WTM Travel Experience Awards.
The awards ceremony takes place on Wednesday, 06 November from 16:30 in the Travel Tech Theatre at ExCeL (TT185), showcasing recipients as leaders in customer experience, meeting and exceeding the needs of the 21st century traveller.
Then whilst WTM is coming to a close Maxx Royal Belek Golf & Spa's Montgomerie Maxx Royal Golf Course will be welcoming the world's best players including Tiger Woods for The Turkish Airlines Open from 07 – 10 November 2013.
Maxx Royal Hotels & Voyage Hotels will be exhibiting at WTM on stand EM955.