Jasper puts one of its 'star' attractions in the spotlight with Dark Sky Festival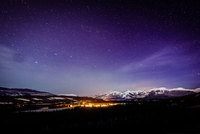 You may not expect to discover some of the World's most sought-after nightlife in an untamed mountain town with a population of only 5000, but Jasper nightlife is nothing less than unique - we're talking about the nightlife of the stars!
The third annual Dark Sky Festival returns to its Jasper home from October 25-27, 2013 - this year boasting even more opportunity to gaze up into the night skies and take in the spectacular show taking place right in front of your very eyes. The very best part? All you need to do is look up! Officially recognized by The Royal Astronomical Society as a Dark Sky Preserve, Jasper National Park is proud to offer some of the World's very best starlight viewing; a true stargazer's playground. During Dark Sky Fest, amateur and pro astronomers of all ages come together to meet under Jasper's dark, dark skies and marvel at nature's star attractions - sometimes even lucky enough to witness a visit by the famed Northern Lights!
Professional star-seekers and experienced astronomers are on hand throughout the Fest to give their expert 'how-to' advice on the prime viewing spots and exactly what to keep a watch out for. Picture an expansive outdoor cinema screen of bright lights and billions of stars and you're half way there. Firm favorites of the Fest will be back, including the much-loved night sky tour around Pyramid Island, 'Starlight Adventure', 'Dinner with the Stars', 'Star Grazing' for all the family at Jasper Park Riding Stables, a series of 'Astronomy Talks', lessons on capturing the night sky on camera with acclaimed photographer Yuichi Takasaka and the TELUS World of Science Planetarium.
The Dark Sky Festival's star experts will also return. Look forward to some of the biggest names in the world of stargazing, including Daily Planet's Jay Ingram and the Festival's Resident Sky Guy, Peter McMahon. Added for 2013 is a brand-new starwatching experience which promises even more top-of-the-range telescope viewing - join a group of pro astronomers on Lake Annette for a unique chance to look even deeper into the dark skies!
Plus, visitors who are interested in venturing a little further, the area around the Columbia Icefields, just outside of Jasper, is also the place to find some of the very darkest skies in the Northern Hemisphere.
For more information, visit jasperdarkskyfest.com.