Winter skin remedy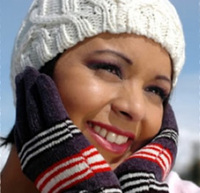 The winter weather can leave our skin feeling tired, dry, irritated and in need of some serious TLC. Ironically, whilst Mother Nature can damage our skin she also appears to have provided a solution to the problem in the form of the hedge row fruit - Rosehips.
Rosehip oil is known to be particularly good for the skin, not only moisturising and rejuvenating, but also helping smooth out scars and other marks, making it ideal for treating your skin once you are back in the warm and dry.
The claims about rosehips aren't just hearsay and the science really adds up. Rosehip oil is found to be particularly rich in essential fatty acids, the building blocks for healthy skin cells and one of the foundations of the protective layers the skin forms. Furthermore Rosehips are also crammed with substances called bioflavonoids. Bioflavonoids are found in certain plants and known to be powerful anti-oxidants that have been shown to protect the body and skin against harmful substances called oxygen free radicals – the main culprits thought to be responsible for aging skin. What really puts rosehip oil in a class of its own however is the fact that it contains a substance called tretinoin, a Vitamin A derivative. Tretionin was tested for its effects on skin in the US by scientists and it was found that those using it are seen to have fewer wrinkles and smoother skin tones.
Where to get your Rosehip Remedy?
Don't worry you don't have to start climbing through hedgerows, now the power of rosehips has been captured in an exciting new range from Phytacol, that has been designed specifically to help moisturise, protect and rejuvenate skin.
Available in two different blends, Phytaoil and Phytalotion, the range allows you to choose the treatment type you prefer and both come with a convenient spray dispenser allowing you to precisely apply the right amount and therefore reducing waste.
Easily absorbed in to the skin, Phytaoil and Phtyalotion use a blend of natural plant oils with both whole rosehip extract and rosehip seed oil. The rosehip combines with vitamins A and E (both known to help maintain healthy skin), and the natural oils of apricot kernel, jojoba seed, lavender, lime and geranium, which help the skin's regenerative process. What's more Phytaoil and Phytalotion contain no mineral oils, synthetic preservatives or fragrances.
For more information, to find a stockist or to buy one of the products from the Phytacol range, visit phytacol.com.