Indian Summer announces Diwali menu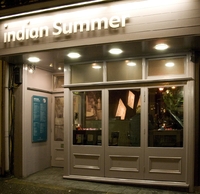 Brighton's award-winning Indian Summer restaurant is to host a Diwali celebration on Brighton on Sunday 10th November. It has also announced a special menu for Christmas office parties.
Diwali, often referred to as 'The Festival of Lights', is a five-day Hindu festival, which occurs on the fifteenth day of Kartika – the lunar month in the Hindu calendar which begins with the new moon in November.
During Diwali, houses are thoroughly cleaned and windows are opened to welcome Laksmi, Goddess of wealth, in to people's homes. The festival is probably the largest South Asian festival on the calendar and represents to Hindus roughly to what Christmas and New Year does to Christians.
There will be a sitar player from 7pm, with annual Diwali quiz with prizes, vivid rangoli patterned paintings, beautifully dressed staff and a special Diwali menu (£22.95 for 3 courses) alongside the usual Indian Summer a la carte offerings. The Diwali menu comprises a trio of street snacks as starters are: Paneer Aloo Chat, Bband Gobhi Ke Ghughare and Tilwale Makaiwada, with a Royal indian Summer Thali as the main couses followed by a Trio of Desserts showcasing Indian sweetmeats and ice cream.
The annual festivities have become something of an institution at the Brighton restaurant and the evening usually sells out well in advance.
Whereas food in Christian churches is largely confined to mince pies and a glass of sherry at Christmas or hot cross bun or seminal cake at Easter, year round communal dining in temples is central to Hindus. Some temples sell food farmed on their own land, whilst others provide free meals cooked by volunteers. Hindu practices vary widely within its three main sects - Vishnavs, Shivaites, and Shaktas. Temples in Nepal even serve pork.
Blessed foods, usually dried fruits, nuts and sweet (including Jaggery (sweet rock) are eaten according to specific Hindu sects' religious customs and practices.
In North India most Vaishnav sects prefer nuts, dried fruits, Laddoos (sweet snacks) and Payasam (sweeten rice). Temples dedicated for Lord Shiva in Eastern India, typically have Ganja or Bhang (cannabis) laced dishes, whereas temples dedicated to goddess Shakti (Kali or Durga) may prepare the meat from sacrificial goat and buffalo.
Historically Indian Summer has not been seen locally as an 'office party' destination. However following its busiest summer season in over 10 years, now widely regarded as one of the country's leading authentic Indian restaurants, Indian Summer is also taking record Christmas party bookings.
"Because we've never offered those menus, customers would be wary of booking thinking the offering would be heavily spiced," said Minesh, adding, "Now there is a distinct trend away from heavy pre made sauces associated with curry house food, in favour of lighter more refined genuine cooking from the sub continent."
"Now more people are aware that we do not employ heavy spicing or bland ready made sauces swimming in oil, more companies are opting our take of fine Indian dining," he said.
In addition to its full a la carte menu, Indian Summer is also offering a special Christmas menu at £22.95 for two courses and £28.95 for three: Starter - Smoked salmon with pickled mooli & beetroot salad; Mains - Chai spiced marinated Duck Breast with balsamic & cherry dressing; Dessert - Jaffa Chocolate cheesecake – what head chef Parth Shukla describes as "familiar English dishes with Indian zing to them."
Minesh, who also runs an out door catering operation which service more typically British fayre, says there has been a big change in the office market. A younger generation don't want traditional Turkey roast for their Christmas work party. The restaurant has also noticed a rising demand for "Christmas" groups in January.
Widely accepted as being in the vanguard of the new wave of modern Indian restaurants, Indian Summer has been pioneering authentic regional food from the sub continent for over a decade. The Brighton favourite is listed in the 'Top 100' restaurants in the UK by the Cobra Good Curry Guide 2103. The consistency of Indian Summer's high culinary standards has been recognised with the award of a TripAdvisor Certificate of Excellence for 2013. This prestigious accolade places the restaurant in the top-performing 10% of all businesses worldwide on the TripAdvisor reviews website. Other recent awards: Brighton & Hove Food Awards, AA Rosette, Harden's Food Guide, Open table Best Restaurant.
More more information, visit indian-summer.org.uk.