Over 200 attend launch event for new homes at historic Caerphilly hospital site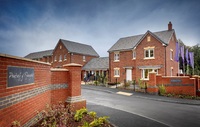 The much-anticipated launch of the brand-new homes being built by developer Lovell and United Welsh at the historic former Caerphilly Miners' Hospital site drew more than 200 visitors.
The opening event for the brand-new development – The Beeches Village - in the heart of Caerphilly saw Lovell opening the doors of its two show homes and releasing the first properties for sale.
"The site is obviously of huge interest locally and holds a very special place in the community because of its past," says Lovell field sales manager Julie Bowen. "Residents have played an integral part in the shaping of the new development and it was great to see so many people at the launch. The response we had to the new housing was overwhelmingly favourable.
"Visitors were bowled over by the new homes and we were thrilled to see so many people keen to look at the development and excited by what is happening here.
"As a place to live, The Beeches Village obviously has a massive amount to offer, not least a truly fantastic location. This is a lovely part of Caerphilly just minutes from the town centre and with brilliant transport links. We expect the development to continue to attract a great deal of positive interest." The M4 is only a couple of miles from The Beeches Village while Caerphilly and Aber stations provide a direct rail route to Cardiff. Cardiff Airport is just 13 miles away.
Homes newly released for sale by Lovell include a range of superbly-designed two- and four-bedroom properties, starting from £149,950 for the two-bedroom Weston semi-detached house style. For those looking for more space, the detached Welford house type is available from £269,950 with the four-bedroom detached Beaumaris house style offered from £285,000. Lovell will be releasing three-bedroom properties for sale early in 2014.
Two show homes are available to view: the four-bedroom detached Beaumaris house style and the three-bedroom Raglan house type. Styled by Bristol interior designers Jane Clayton, the two properties enable visitors to see the exceptional build-quality and standard of finishing at first hand as well as getting some great design inspiration and ideas.
Further help for homebuyers is available through the Lovell 95 mortgage offer – which allows purchasers to move in with only a five per cent deposit – and is being offered on the Weston two-bedroom house style (Plot 9 only).
In addition to the new homes being sold by Lovell, United Welsh will sell 20 homes through the Homes within Reach low-cost home ownership scheme. To find out more, visit unitedwelsh.com.
Situated off St Martin's Road, Caerphilly, CF83 1DX, The Beeches Village marketing suite is open from Thursday to Sunday, 10am to 5pm and on Monday between 11am and 5pm. Alternatively, visit lovellnewhomes.co.uk.