Say goodbye to chapped, cold-weather lips with Clinique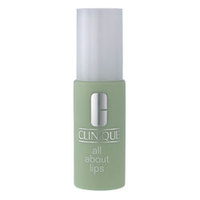 With the weather getting colder, and the heating being turned up, our skin inevitably suffers. Our lips are one of the first places to show signs of dehydration. Clinique's triple threat offering of lip treatments will ensure your lips are replenished, soft and hydrated all year round.
Superbalm Lip Treatment
This deeply hydrating lip treatment helps repair dry, distressed lips and replenish moisture loss. Contains a combination of naturally-derived ingredients and rich emollients to help comfort and give lips a satiny-smooth look and feel.
All About Lips
Delivers both immediate and long-term results to minimise evidence of fine lines, wrinkles and sun damage, giving the lip area a smoother, firmer look and feel. Helps lipstick adhere to lips, prevents lipstick from travelling, and will not alter lipstick colour.
Repairwear Intensive Lip Treatment
This sophisticated anti-ageing treatment includes ingredients to reduce the appearance of lip lines, protect lips from environmental aggressors and replenish and restore moisture balance. Lips are left feeling amazingly soft, smooth and comfortable. A unique "Smart Sphere UV" blend, activated by heat, UV or other oxidative stress, delivers anti-oxidants to the lips.
"The lips are hard-hit at this time of year, particularly if you spend a lot of time outside in the sun and wind. The key is to apply lip balm, rather than licking your lips, whenever they start to feel the least bit dry or chapped. For everyday, the best method for keeping lips moist is to apply layers of emollients: For example, a coat of lip balm followed by a moisturising lipstick and topped off with a layer of lipgloss. It is important to exfoliate the lips and lip-area. Flaky lips are often a fact of life during cold, winter months." Dr Tom Mammone, Executive Director of Skin Physiology and Pharmacology, Clinique.
For more information, visit Clinique.co.uk.