Fifteen new FH receive a warm welcome at Peter Green Chilled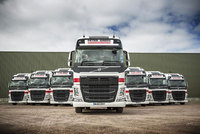 Leading refrigerated transport and logistics company Peter Green Chilled has putfifteen new Volvo FH tractor units into service. The trucks are based at the company's Evercreech distribution centre in Somerset.

Supplied by Truck and Bus Wales & West, the fifteen truck order represents important repeat business for Volvo following the successful fuel performance of five 'Classic' Volvo FHs that went into service in 2011. The latter were the first Volvos to join the 60 plus vehicle fleet for almost 25 years.

The new FHs are reported to be achieving 0.5 mpg better fuel economy than the 'Classic' FHs that joined the fleet two years ago.

Peter Green Chilled Company Trainer Derek Chant says that he expects the fuel economy to improve further as the latest trucks accumulate more mileage. It is anticipated that the new FHs will each cover around160,000 kms annually.

Driver feedback has been very positive so far, reports Mr Chant, especially with regard to the ride of the new FH, saying that: "Overall driveability and cab comfort are much improved compared to the 'Classic' FH."

The new Globetrotter XL-cabbed FHs were specified with Volvo's Euro-5 D13C-500 engine, VEB engine brake and I-Shift automated gearbox with I-See fuel saving, topography reading software. Volvo's Dynafleet telematics system is used to download fuel usage reports.

The trucks are on Volvo's Gold Contract with maintenance being carried out at the Truck and Bus Wales & West dealership in nearby Gurney Slade.