MC Rental unveils new purpose built facility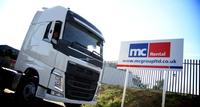 National commercial vehicle rental company, MC Rental, has this October opened the doors to its first purpose built, standalone premises.
The multi-million pound facility, in Maidstone Kent, covers three acres and offers all makes and models of commercial vehicles to rent on anything from a daily to a longer term contract hire basis.
Included at the site are purpose built workshops and a bespoke jet wash facility to maintain the growing fleet. There is also a new reception area to meet customers and assist in the handover process.
MC Group sales director Dave Hutchins says "this is the first time our rental division has had a dedicated location. We hope this will be much more convenient for our existing and future customers."
MC Rental has seen rapid expansion in the last few years, having begun only ten years ago as a division of MC Group, which holds Volvo and Isuzu truck franchises across the south of the country. Initially only hiring Volvo trucks on a contract hire basis the company has grown quickly and now owns a mixed fleet of over 1,700 vehicles.
Hutchins explains "demand for rental has been on the increase due to its flexible nature, particularly in recent years with the degree of economic uncertainty we have all experienced. MC Rental began as a small subsidiary to compliment MC Group, but after noticing more interest and demand for our service we realised we could use our experience and expertise to grow the company and provide our customer with a wider range of rental solutions."
This has led the company to build a large mixed fleet which includes anything from 4x4's, vans and refrigerated vehicles to the largest HGV's. "Having previously operated from MC Group sites our growth has meant we need extra space to accommodate the additions to our fleet" says Hutchins.
This expansion has also created a number of jobs within the company including sales positions. So far in 2013 the headcount at MC Rental has increased by 35%.
The company now deals with a broader range of business segments partially due to the introduction of fully comprehensive insurance on vehicles up to and including 7.5 tonnes, which means they now work with private clientele as well as business customers. Opening hours at the site have been designed to work around a diverse client base, in particular the decision to open on Saturdays to better accommodate private customers.
Hutchins says "Our customers now have a dedicated facility to deal with all their rental needs, which will make it even easier for them to do business with us."