Crouch set to score World Cup double with Hyundai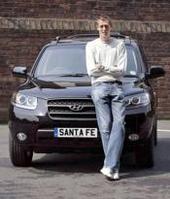 New Hyundai drivers will be praying England striker Peter Crouch can score a World Cup victory this summer – because it could earn them a free car.
The car giant, and official FIFA World Cup 2006 partner, has pledged to help the nation celebrate a historic England win in Berlin on 9 July, by giving eleven owners their money back in a £250,000 give away.
If Sven-Goran Eriksson's men win in Germany, anyone who buys a Hyundai between now and the end of the World Cup could qualify for a free car – and it doesn't matter if they buy a £5,990 Amica City run around or luxury Santa Fe SUV worth £25,000.
Hyundai handed over the keys of their most spacious model – the Santa Fe SUV – to 6ft 7ins Liverpool forward Crouch, 25, yesterday to help him celebrate his World Cup call up.
On picking up his new Hyundai, Crouch said: "The Hyundai Santa Fe is just the perfect car for me. At 6ft 7ins it's not always easy to squeeze into sports cars or supercars. I need something a bit bigger but I still want a car that can turn heads and drives great. The Santa Fe fits that bill."
Thousands of Hyundai drivers will be hoping Crouch can score the goals that secure England their first World Cup success in 40 years – and a bumper pay day.
"I'm delighted to be going to Germany for the World Cup," he added, "and I, along with the whole squad, will be doing everything possible to bring home the trophy this year. And with 11 free cars up for grabs if we do, fellow Hyundai drivers could have two reasons to celebrate this summer."
Hyundai's Managing Director, Tony Whitehorn, said: "An England victory 40 years after their legendary 1966 success would be a momentous occasion for the country.
"We just thought we would make it even more special for eleven lucky Hyundai owners."
And Hyundai's World Cup fever doesn't end there.
Anyone who buys a new Hyundai during its World Cup weekend celebrations between Friday 2 June and Sunday 4 June will be entered into a prize draw to win both the refund and World Cup semi-final tickets complete with flights and accommodation.