Peugeot shows its support for 'Team Rickshaw'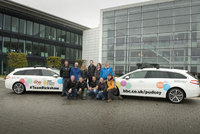 The Rickshaw Challenge for BBC Children in Need is back! BBC One Show presenter, Alex Jones, together with four parents will partner five young people to make up 'Team Rickshaw'. The youngsters are all from projects funded by BBC Children in Need.

Rickshaw veteran Matt Baker is also supporting the ride, acting as mentor and cycling alongside the riders on their eight-day relay journey across the UK. Having benefited from the charity's work first hand, the young riders are undertaking the challenge to raise as much money as possible to help other young people across the country.

As part of its on-going partnership with the charity throughout 2013, Peugeot has donated ten vehicles – 3 x 508 SW, 1 x 3008 Crossover, 2 x Expert Tepee, 1 x Partner Tepee, 1 x Bipper Tepee and two Peugeot Boxer Motor Homes – to the One Show for use during the challenge.

The convoy will follow 'Team Rickshaw' across the country – as it travels from Northern Ireland to London – providing filming support vehicles and an on-the-road living space for the team throughout the 700 mile journey.

The trek begins today and will finish on Children in Need Telethon day – Friday 15th November – as the team arrives at the BBC's Elstree Studios for the One Show's 'Children in Need' special.

Speaking about the challenge, Peugeot UK Managing Director, Tim Zimmerman, said: "The One Show's Rickshaw Challenge has raised in excess of £3.5million for the charity to date and as an official partner of Children in Need, we knew once again it was an event we absolutely had to support.

"Living on the road for eight days is no mean feat and although the team is made up of very capable and no doubt brave young people, it's essential that 'Team Rickshaw' has a reliable and robust convoy of vehicles able to provide backup, regardless of the terrain or weather.

"As with every fleet enquiry we deal with, we assessed the demands of the journey, in this case placing great emphasis on safety and the ability to cope with difficult weather conditions. These vehicles have been chosen due to their load bearing capacity, performance, responsive nature and versatility, making them the perfect fleet for such an ambitious challenge."

Supporting 'Team Rickshaw' is just one of many activities Peugeot and its Dealer Network are involved in throughout 2013. The 'UK's Largest Car Wash' is being held at Peugeot Dealerships across the country from 6-10th November and everyone can get involved by purchasing a 'Get Sudsy with Pudsey' Peugeot Protect pack from pudseyscarwash.co.uk or local Peugeot Dealer.