The Augustine Hotel pioneers luxury hospitality in Czech Republic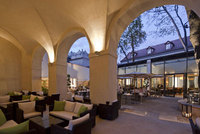 The Augustine Hotel, Prague, recently named one of the world's top 100 hotels by Travel + Leisure magazine, boosts its opulence to a new level by offering its guests access to a full-time butler service.
Jamie Flay of The Ritz London's Front Office Team has stepped in to perform the duties of head butler at The Augustine. Jamie takes care of all of the guests' personal services, including unpacking, packing, preparation of travel plans, provision of laundry and restaurant services, cleaning, shopping, organising transport and city tours, and, if desired, Mr. Flay will act as chauffer. While working at The Ritz, Mr. Flay received 5 Ritz Star Awards in two years for providing excellent and attentive services to VIP clients.
Jamie Flay, Head Butler at The Augustine: "To be a butler means to be a sort of part investigator, psychologist, and guide all at the same time… I must be one step ahead at all times, have all the itineraries in my head, and be able to gauge correctly any given situation so that in the end the guest leaves satisfied and having had a fulfilling experience. Fortunately, I was close to this profession even as a child, when I helped manage various matters in the family – from parties and dinners to outrageous outings."
Guests will automatically receive Mr. Flay's services when they book any one of the hotel's four most luxurious suites. Other guests will be able to order the service for an additional fee of EUR 300 per day.
Situated in Prague's Malá Strana (Little Quarter,) The Augustine Hotel is located in an ancient complex of buildings, including the 13th century church of St. Augustine for which the hotel is named. The hotel is home to the fine Czech restaurant Elegantes, a bar that dates back to 1887, and the St. Thomas brewery with beer prepared by the hotel's permanent population of monks. The Augustine, a member of The Leading Hotels of the World, left the buildings' historic art in its original settings, providing each room with its own sense of history and romance.
For more information, visit lhw.com.