Joanna Lumley meets will.i.am in BBC One documentary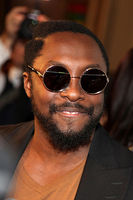 In a one-hour film, Joanna Lumley returns to BBC One to spend time with a man who has intrigued her since she saw him carrying the flame on the 2012 Olympic Torch Relay across Britain.
Joanna travels to Los Angeles, California to meet will.i.am on his home turf – spending time with him at his mansion in Los Feliz, meeting his friends and family, and returning with him to his childhood home in the social housing projects of Boyle Heights in East Los Angeles.
She accompanies will.i.am as he journeys back to his old elementary school where the course of his life was changed forever by an inspirational teacher John Wright, and watches him compose and create a special song about his mother.
Joanna Lumley says: "I have long been fascinated by will.i.am and leapt at the chance of meeting him and finding out more about his extraordinary life and achievements. He was everything I had hoped he would be, and more: charming, articulate, a whirlwind of ambition and talent, as sweet as pie and as dandy as a peacock.
"The film we made together is truly a rare thing, a side of will.i.am the public hasn't seen yet, with interviews with friends, family and colleagues, and affording a glimpse into the life of the musician, entrepreneur and philanthropist that has made will.i.am a household name and a megastar."
Charlotte Moore, Controller of BBC One, says: "In this very special documentary for BBC One, Joanna Lumley spends time with the intriguing will.i.am, hanging out with his friends and family and delving into his background to find out just what motivates this extraordinarily driven individual who seems more than anybody else to define the pace, energy and creativity of the time in which we live."
Joanna will be talking to will.i.am about his childhood growing up in one of the toughest areas of Los Angeles, his school days and early moves into the music business, his massive success with The Black Eyed Peas and subsequently as a solo artist too, his relationship with President Obama, his work on The Voice, and the many ventures to which he devotes his time.
Emma Willis, Head of Documentary Commissioning for the BBC, says: "We're absolutely delighted to be welcoming Joanna Lumley back to factual television on the BBC. Joanna is one of Britain's most popular personalities and will bring warmth and insight to this unique documentary."