Rest and re-energise at Le Richemond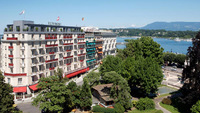 Overlooking Lake Geneva, Dorchester Collection's Le Richemond is the ultimate place to indulge in the invigorating outdoors Swiss lifestyle. Le Richemond offers the chance to rest and re-energise whilst ensuring guests are able to make the most of their time in Geneva and experience an unparalleled level of luxury in order to return home fully renewed.
Whether seeking snow or sun, Geneva offers the chance to enjoy the Alpine environment year-round. Glacier skiing and hiking excursions provide adrenaline filled fun, whereas walking tours, boating on the lake and soothing spa treatments cater to those seeking serenity. A range of activities to enhance and improve well-being await guests visiting Le Richemond coupled with the ultimate in luxurious comfort.
Le Richemond encourages its guests to embrace its stunning natural surroundings through an array of activities. From skiing in the winter, to boating or kayaking on Lake Geneva, or mountain hiking and biking in the summer accompanied by one of the hotels recommended expert guides. A Jogging Concierge service is also available, which incorporates a scenic tour of the area, tailored to the fitness levels of each individual guest. A personal trainer will take guests along the shores of Lake Geneva and into the old town, pointing out celebrated sights and historical details. Upon returning to the hotel, there is the option of a cool down session involving various stretching exercises in the private hotel gym followed by a sports massage in the brand new Sisley Spa.
Introduced this year, Le Richemond has further developed its spa experience by introducing acclaimed French skincare brand Sisley. Made from the finest plant extracts and essential oils, Sisley's products are applied to the skin using a variety of different massage rituals from around the world producing impressive results and a deep sense of calm. With a total of five treatment rooms, including a double room with a private hammam, Switzerland's first Sisley spa at Le Richemond offers guests renowned face and body treatments based on aromachology: the science of relaxing the body and mind through the use of fragrance. Le Spa by Sisley also includes the first ever treatment room in Geneva to be especially designed for Thai massage – an ancient technique renowned for its re-energising qualities.
With focus on physical and mental wellbeing combined with the natural benefits of the great outdoors, guests can return from Le Richemond truly rested and re-energised.
For more information, visit dorchestercollection.com.