Moduleo to transform range in 2014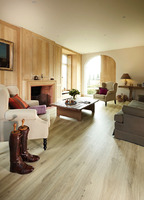 Luxury vinyl flooring manufacturer Moduleo has announced it will be introducing 16 superb new finishes to its Transform range in early 2014.
Moduleo, which is part of Europe's largest flooring manufacturer, the IVC Group, has created this extension to its Transform range to provide greater choice for consumers and installers alike.
David Bigland, MD of Moduleo UK and Eire comments: "Moduleo combines the patterns and textures found in nature with state-of-the-art vinyl flooring technology to create a supremely engineered product. We have developed these new colours and finishes by responding to the feedback we have received on our current range, as well as reacting to the latest flooring trends."
The Moduleo Transform range of luxury vinyl flooring features a hard-wearing top layer, making it ideal for commercial applications as well as the home. The expansion to the range will offer six new wood finishes as well as introducing ten new products to the Transform stone collection.
Transform features a hard-wearing top layer which is easy clean, moisture resistant and extremely durable to protect against scuffs and stains. Available in both a traditional LVT dry back construction as well as a simple-to-install Click installation, Moduleo flooring is an environmentally solution with an anti-slip rating of R10.
David concludes: "The expanded Transform range will see the introduction of several new stylish designs and I would urge consumers and specifiers to keep their eyes peeled for these exciting new additions in January 2014."
For further information, visit moduleo.co.uk.