Families Worldwide ventures into Colombia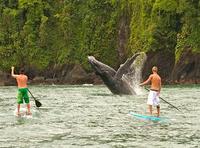 Family adventure holiday specialist Families Worldwide has created a brand new 11-day itinerary called 'Journey to Colombia' the first departure of which will be on 9 August; it will be led by company founder and self-confessed Colombia fanatic, Mark Wright. It is Families Worldwide's first venture into Colombia.
The holiday is geared towards families with children aged about 10 years and upwards and will include many of the country's highlights and colonial cities.
The tour includes a variety of elements which help to engage both parents and children; a steam train journey to an impressive underground Salt Cathedral near the capital, Bogota; a cable car to the top of the Monserrate; a shopping trip through local markets; a cooking lesson to help bring out the flavours of Colombia's amazing food...
Then a journey to the Caribbean coast by plane; a few nights in a wooden, beach-side lodge at El Matuy, a nature reserve with no electricity where candles providing the only light. Families will also enjoy Totumo - a bizarre mud 'volcano' – where they can wallow in tepid mud before bathing in a nearby lake.
Next, a visit to the impressive walled, colonial city of Cartagena, where all of the gold plundered by the conquistadors was stored en route back to Spain. It's not all history lessons though – to keep the kids interested, there's time to visit some local fishermen nearby who will demonstrate their skills and encourage families to join in.
There are also three days in Colombia's Coffee Country, plus a visit to the village of Salento, a picturesque village full of brightly painted buildings, handicraft shops and a journey by bamboo raft through lush, rolling hills along the La Vieja River at a gentle pace.
There the adventure ends for some, but there is a chance for families to extend the holiday with a three-night stay at the extraordinary El Cantil eco lodge in an isolated, jungle location on the Pacific coast for activities including jungle walks, paddle boarding, kayaking and some of the best whale watching in the world.
The holiday costs from £2949 per child and £3099 per adult which includes international and domestic flights, all land transportation, 9-nights' accommodation, most meals and an expert tour leader.
All holidays are available with 'land only' prices for those who would rather make their own flight arrangements.
For more information, visit familiesworldwide.co.uk.