Europcar offers tips for a stress-free holiday car hire experience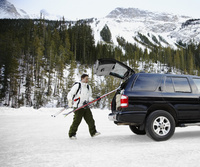 Europcar, car hire services in Europe, is offering those heading abroad this Christmas and winter some useful tips on how to ensure their car hire experience is stress-free. Then all they have to worry about is making the most of their holiday.
Once flights, hotels and transport to the airport have been arranged, many could be forgiven for thinking that the hardest part of arranging a holiday has been sorted. However travelling around a holiday destination once you've arrived is a commonly neglected factor, with most leaving this decision to the last minute, which could mean paying more and getting stressed at a time when relaxation is key.
"Leaving holiday car hire until the last minute can affect the overall quality of a trip as there is no guarantee the type of vehicle required will be available" says Ken McCall, Managing Director, Europcar UK Group. "While it may seem obvious to book a vehicle that will hold all the passengers and luggage, including things like ski equipment or golf clubs, many only realise their vehicle is unsuitable when they arrive at the pick-up point. A tightly-packed car does not make for happy passengers and can start the holiday off on the wrong foot.
"It's also important to remember you'll need to be up to scratch with the rules of the road for the country you're visiting. We've all been there – arriving in a strange country after a long flight, you're faced with having to tackle unfamiliar roads with unfamiliar rules and regulations.
"That's why we're offering tips to help holidaymakers have a great holiday and potentially save money. For the best deals and to ensure you get the vehicle you need and want, we strongly advise booking in advance. If the right type of vehicle has been booked in advance, driving on unfamiliar roads will be less daunting."

Europcar's Top Car Hire Tips
More space!

It may seem obvious, but it's important to check the vehicle is spacious enough to accommodate all passengers and luggage too. The Europcar vehicle guide shows the ideal capacity for each car group.
Driving choices

Don't just think about where you are collecting the vehicle; also consider the eventual destination. For those travelling to a city such as Paris or Rome, a smaller, compact vehicle is probably the best option.
Island isolation

If you are travelling to a popular island destination, it is important to remember that the fleet is limited to what is available on the island, and so booking early is advisable.
Adding add-ons

Getting lost never helps relaxation, so if you want to avoid the stress of reading roadmaps and data roaming charges trying to make your smartphone work, a SatNav can be booked when making a reservation. Essentials such as car sears for babies and children can also be booked for the duration of a rental.
Cheaper isn't always better

In today's cost-focused society, there are many companies springing up to offer discounts on all areas of a holiday; however these aren't always the best option. A larger more reputable company will generally have a wider choice of vehicles and a newer, safer fleet.
Know the law

Many countries have legal requirements for drivers that differ from the UK, such as in France where a high visibility jacket and breathalyser are required in all vehicles – and are supplied by Europcar - or in Austria where it is mandatory to have winter equipment and toll stickers to drive on the motorway.
It's all in the timing

Booking your hire car early will not only ensure you get the vehicle you need, but could save a significant amount of money.