Kia offers a flexible rental solution with the launch of Kia Rental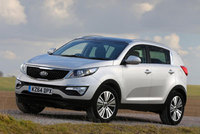 Launching at 12 dealerships across the UK, Kia, is now able to offer a flexible rental solution to both retail and business customers – Kia Rental. Flexibility for the individual customer is the key element in the Kia Rental programme.
Trials of the scheme have already proved popular for those dealerships with business customers. David Dench, Managing Director of Triangle of Chesterfield says Kia Rental offers a competitive choice. 'Many of the businesses using Kia Rental have said that if our quality of service is as strong as that of our fleet sales, they would prefer to come to us as it out performs other providers.'
All models in the range are available on the programme with each dealer determining the exact makeup of their own individual fleet. With short holding periods and high preparation levels, the customer experience is similar to driving a brand new car.
The range extends from the Picanto - Kia's small city car, the frugal Rio, the ever popular cee'd range as well as the family focused Carens MPV. 4x4 options are covered by the Sportage and the larger Sorento.
Automatic transmission and factory fitted sat nav systems are available on selected cars. Some dealers have added tow-bars to all-wheel drive models to really create a flexible range to meet customers' diverse needs. Child seats are also available on request.
John Hargreaves, Head of Fleet and Remarketing at Kia commented, "The Fleet area is an important part of the business for Kia and focusing on what our customers want and adapting to their needs is an important part of growing the business.
"Kia Rental has had a positive start, we've even had one rental customer who was so impressed with the car he came back and bought it. The overriding feedback from customers has been that service not price counts. Kia Rental reflects a grown-up attitude to business' fleet needs." Added Hargreaves.
For full details on Kia Rental and to book online visit kia.co.uk/rental.