Aromatics Elixir - 2013 Limited Edition Collection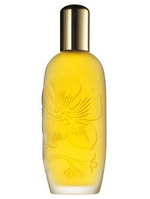 Sensual, sophisticated and slightly exotic, Aromatics Elixir has had the power to enchant since its inception in 1971. Today, this charismatic scent is the calling card of avant-garde women around the world.

A mélange of precious, mood-altering ingredients, Aromatics Elixir was positioned as a tonic for the senses. Even the colour of the scent – a beautiful amber – was meant to impart an air of intrigue. The stage was set for something magical to happen. And it did. Nearly 40 years later, women that wear Aromatics Elixir still attest to its powers: it makes them feel feminine, alluring and attractive. They say it's magnetic. Many consider Aromatics Elixir to be a modern aphrodisiac.
For The Spirit
Presented in an engraved glass bottle with a signature floral design, the Perfume Spray is a stunning addition to any woman's Aromatics Elixir Collection. A captivating chypre, Aromatics Elixir is all about chemistry – it uniquely adapts to the wearer. Sensual with an oriental complexity, the notes encompass a sense of contradiction – they soothe, stimulate and mesmerise at once, in an ode to its mystical powers.
Top Notes: Utterly timeless and the essence of femininity, Bulgarian Rose is featured alongside tender Chamomile, a note known for its calming qualities.
Middle Notes: Elegant and exotic, these notes are a blend of pure white and aromatic green florals such as Muguet, Ylang Ylang and Jasmine – an ingredient coveted for its stimulating powers.
Bottom Notes: Deep and enchanting, the bottom notes combine captivating Patchouli with vibrant Vetiver and Amber to create a majestic, long-lasting richness.
Powerful and passionate, Aromatics Elixir is a scent that lingers throughout the day. To create an aura of scent, spray the fragrance into the air and walk through the mist. A single misting of this full scent envelops the body and spirit for an entire day.
For The Home
The limited edition Aromatics Elixir Candle brings the signature Aromatics allure into the atmosphere. Decorated with a beautiful gold frost and pearl finish, it emanates a rich, vibrant scent. An elegant addition to any room, it is the perfect gift for anyone this Christmas.
Allergy Tested.
Limited Edition Aromatics Elixir Perfume 100ml, RRP £64.00/ €85.00
Limited Edition Aromatics Elixir Candle, RRP £35.00/ €45.00
Available nationwide and on clinique.co.uk.