Clinique introduces new Calyx fragrance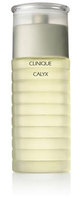 Clinique has rediscovered Calyx, adding to the brand's vibrant portfolio of fragrances, each with a distinct point of view. Calyx was introduced in 1986 as a fresh, modern fragrance, and today is still instantly recognisable. Created for the woman who seeks a signature scent that boldly sets her apart, yet is still clean and fresh, Calyx is a liberating fragrance that is even better experienced than explained. It is an energising mood lifter that captures the senses with a rush of citrus, a floral heart and tangle of lush greens.
The story of Calyx: A liberating fragrance better experienced than explained
The fragrances that were popular when Calyx was developed were dramatic, traditional florals and orientals. These fragrances were classically constructed, starting out light with very airy, volatile notes, and then building up and becoming stronger with time. Calyx challenged the fragrance status quo.
Since inception, Calyx has not been a typical fragrance. The tart, grapefruit top notes surprise people. It's seductive, yet fruity and distinct from the very first note. The aroma stays just as bold from its top notes down to its base. There is a dynamic fruit scent right from the beginning, and a tangy, green exaggerated quality. As one of the very first fragrances to feature a signature, modern citrus accord, Calyx was a fragrance breakthrough that paved the way for the fruity floral category.
The name
A Calyx is the protective covering of a flower bud - the green leaves that wrap tightly around the petals before they blossom. Calyx is captivating and infers a deep connection to a lush and invigorating botanical world. The scent is beyond a boutique of petals or a flower in bloom. It represents the entire plant – its roots in the earth, the woodsy stem, the green of the leaves, the heady aroma of the flower and ultimately the fruit it produces.
The nose
Legendary perfumer, Sophia Grojsman began developing Calyx after travelling to the Mediterranean to visit family. She couldn't help notice an intoxicating flowery and fruity aroma that filled the home, stemming from two trees outside the windows: a grapefruit tree and an orange tree. The combined scents were unique and memorable.
During the infancy of Calyx's creation, Sophia experimented with a blend of grapefruit and orange flower, and working with a chemist in the IFF lab, she was able to balance the sweetness with the incredible tartness. The final fragrance was a recreation of the experience Sophia had during her visit to the Mediterranean. It signifies nature, combining greens and florals, and represents all things that are stimulating, lush and effervescent.
The juice
There has been plenty of mystery around the fragrant "notes" that combine to create the Calyx scent. Everyone has their own interpretation of Calyx and that is what makes it special. But in reality, the only fruit used in the scent is grapefruit. Any other fruit aroma detected is just an impression of that fruit created by the perfumer by blending other ingredients.
The seductively fruity grapefruit note starts out strong when contact is first made with the skin and stays just as bold from top to bottom, maintaining a perfect balance between clean crispness and rosy sweetness. Two key notes bring the fragrance to life:
Crisp grapefruit gives it that exhilarating signature and imparts a succulent, juicy and lively feel.
Green leaf emanates a wet, dewy, refreshing impression with memorable sophistication.
Top notes: grapefruit, mango, passion fruit, papaya, mandarin, guava, green leaf
Middle notes: freesia, muguet, rose, neroli, jasmine, lily, marigold
Bottom notes: oakmoss, orris, sandalwood, vetiver
Calyx is incredibly fresh and modern, and helped inspire the next generation of fruity, clean florals. It's a classic ready to be rediscovered.
The look
The presentation of Calyx is as direct, modern and feminine as the fragrance itself. Its simplicity stands out as an example of restraint that was clearly ahead of its time, and still feels so relevant today.
Exclusive in Selfridges and Brown Thomas from 10th January 2014 for 4 weeks
Exclusive in Debenhams from 6th- 27th February 2014
Available nationwide and online at clinique.co.uk from 28th February 2014.