Pole position for Volvo at Hayton Coulthard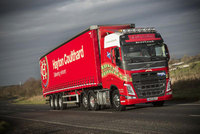 Fast approaching its 100th anniversary in business, Dumfries & Galloway based Hayton Coulthard Transport Ltd has recently added 25 new Volvo FH 6x2 tractor units to its operation.

The trucks all come with Globetrotter cabs, Volvo D13 460hp engines and I-Shift automated gearboxes.

Managing director Duncan Coulthard said: "We've opted for the rear lift axles as we carry out a lot of farm deliveries, where good traction and manoeuvrability is vital. Volvo's Globetrotter cab is also extremely spacious and we specify a number of extras for our drivers like refrigerators and microwave ovens, whilst all our new FHs also have swivelling passenger seats for comfortable off duty spells."

Around 50 per cent of Hayton Coulthard's new Volvos were fitted with power take off equipment for use with the fleet's walking floor trailers, whilst the rest pull a variety of general haulage trailer types including fridge vans, curtainsiders and platforms.

Established by Peter Coulthard in 1916, Hayton Coulthard Transport Ltd is still a family run business that is nowadays operated as a joint venture, with 50 per cent owned by GDL (Holdings) Limited, which also encompasses Gregory Distribution Limited and Kay Transport Limited.

Hayton Coulthard Transport Ltd operates a fleet of around 70 vehicles which carry a tartan trimmed, traditional Scottish livery applied by AstSigns Limited.

As a group, GDL (Holdings) Ltd have access to a fleet of over 600 trucks allowing it to provide comprehensive logistics services to a vast range of customer types. "Volvo Trucks have been a big part of our business since my father purchased his first F86 model back in 1967, noted Duncan Coulthard adding, "at 21 years of age, my first truck was an F7 tractor unit in the late 1980s and I subsequently progressed to a larger F12 model, which was a tremendous vehicle."

Hayton Coulthard Transport Ltd sticks to a one driver, one truck policy and each of the new Volvo FHs is expected to accrue around 150,000 kilometres per year. Duncan Coulthard already reports excellent driver feedback from the drivers of his new FH tractor units, together with promising fuel returns.

The Twynholm based outfit have used a third party supplied satellite tracking system for a number of years, but six of the new FHs are trialing Dynafleet, Volvo Truck's own telematics system.

Duncan Coulthard concluded: "The early results from Dynafleet are very encouraging, as is the level of data available and I'm sure this system has a future in our fleet."

Hayton Coulthard Transport Ltd has also ordered its first Euro 6 engine Volvo FH tractor unit for delivery in January 2014.