Welcome Heritage Group adds Traditional Haveli to its portfolio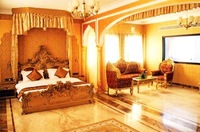 Welcome Heritage Group, India's finest collection of Heritage hotels, has added Traditional Haveli to its portfolio. The property is conveniently located at Bani Park, in close proximity to the Jaipur International Airport and Railway Station.
Built in late 1940's by Rai Sahib Laxmi Pati Singhania, this Haveli was used as his private residence until 1956. However, in 1958, it was purchased by Badiyal Thakur who initially used this place to entertain its guests and later converted it into a hotel. In 2012, Mr. Bal Mukund Goyal and Mr. Dinesh Goyal acquired this spectacular Haveli and made some commendable up-gradations to delight travelers.
The Welcome Heritage Traditional Haveli offers 24 elegantly designed rooms including 3 suites. Each room offers an extraordinary mix of classical and contemporary décor with a special touch of Rajasthani heritage adorning the walls. Besides, Traditional Haveli also offers Indian Restaurant-'Zaika', Bottles and Chimney & Over the Moon Bar and a large banquet space. It has a dedicated Kids Zone with babysitter service to look after and entertain kids. Then there is the "O" Thai Spa which offers a delicate blend of Thai and western therapies to soothe one's mind, body and soul.
If you are travelling to Jaipur for a holiday trip, Welcome Heritage Traditional Haveli will give you sneak peek into Rajasthan's royal heritage along with modern comforts.
Heritage Hotels of India is a successful business initiative of Indian Holiday Pvt. Ltd., a leading tours and travel operator in India catering for more than 23 years. Heritage Hotel of India is an online gateway, which is engaged in the managing and planning of Heritage Hotels located at both offbeat and popular destinations of India. Online reservations for any Heritage Hotel in India are also available on this website. Moreover, Heritage Hotels of India is also praised for providing all-inclusive, comprehensive tours to explore the rich heritage of India.
For more information, visit heritagehotelsofindia.com.