Grass is greener as Brits go Dutch to celebrate NYE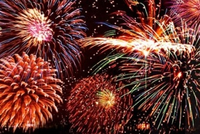 One in five Brits travelling for New Year's Eve will party in Amsterdam, reveals research from Only-apartments, the leading enterprise specialist on the reservation of quality short-stay apartments.

The figures show the Dutch capital is the most popular location for those based in the UK but looking to celebrate New Year's in a different city.

Despite having a higher 'cost of living', it's possible Amsterdam's reputation for the recreational, and high regard for the arts, is what places it in pole position for this one night stand.

With the controversial 'second coming' of the Rijksmuseum earlier this year, there's more than the most obvious indulgences enticing the British this New Year's.

Other cities in Only-apartments' top five destinations were Berlin, Barcelona, and Paris with London scraping in to fifth place.

Alón Eldar, CEO of Only-apartments said: "Brits are going Dutch for a good time because the grass is always greener on the other side. You can't blame people for swapping a drizzly night on the Thames for more exotic districts. It's hard to enjoy fireworks from under an umbrella."

Popular New Year's events in these top cities include the Netherlands' largest techno rave - 'Awakenings New Years Eve Special' in Amsterdam, and one of Europe's largest open-air parties at Brandenburg Gate in Berlin.

"I don't think going abroad for New Year is as extravagant as it sounds. It's always an expensive night for those who like to party, but savvy travellers can find superb accommodation for a reasonable price in all of Europe's great capitals," added Alón Eldar.

The data for these findings has been taken from a study of Only-apartments' British customers booking their apartments over the New Year's Eve period.

Earlier in December Only-apartments also introduced a new corporate image along with the launch of a renewed website that stands out for its easy navigation and searching tools: only-apartments.com

The new site features innovative functionality by offering market segmentation, a quality that makes Only-apartments unique in its industry

About Only-apartments:

Only-apartments is a company that specialises in top quality short-stay apartment rentals, acting as the intermediary between the property owner and the client. Only-apartments offers a wide range of over 20,000 apartments in 2,000 destinations spanning 109 countries. The platform is available in 25 languages and strives to offer information adapted to the needs of each client. Furthermore, it allows for reservations to be made quickly and effectively, thus facilitating the relationship between the traveller and the property owner. Founded in 2005 and based in Barcelona, Only-apartments counts on a team of 70 specialists and customer service that is available 24 hours a day, 7 days a week.